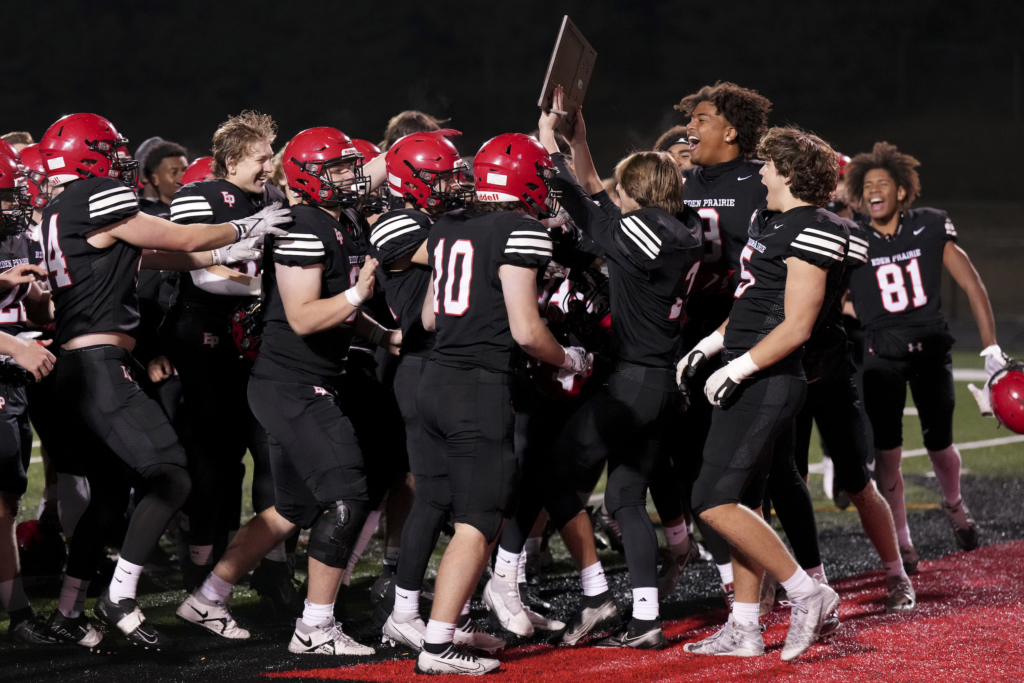 There was no celebration after the Eden Prairie Eagles routed Woodbury 55-14 in the Class 6A section final game Friday night.
As parents and fans were still streaming out of Aerie Stadium around 9:30 p.m., Mike Grant's squad entered the dome covering the practice field and did what any team aspiring to win a state championship does.
They practiced.
"Yeah, we're getting a quick practice in," junior center Will Sather said with a slight grin, almost as if it's just another Friday night. "We're getting ready for Shakopee."
Anyone watching the clinic the Eagles presented on both sides of the ball against Woodbury would be dubious in thinking they needed to work on their game – right after a game.
The Eagles compiled 551 yards in total offense while holding the Royals to 225 total yards, including just 97 yards rushing.
"We're also practicing tomorrow morning," Sather said. "That'll be our Monday practice. So we're trying to get that extra preparation for the game on Thursday."
The game is a rematch with Shakopee in the state quarterfinals. Shakopee defeated Eden Prairie, handing the Eagles their second loss of the season back on Oct. 8. The Sabers crushed Mounds View 42-21 in their state qualifying game.
The Eagles have rolled off four straight wins since the loss to Shakopee and looked downright menacing in their thrashing of Woodbury.
"I'd say we're energetic," senior defensive end Will Schreiber said when asked to describe the play of the defense. "We all come out there with a non-stop will to get to the ball."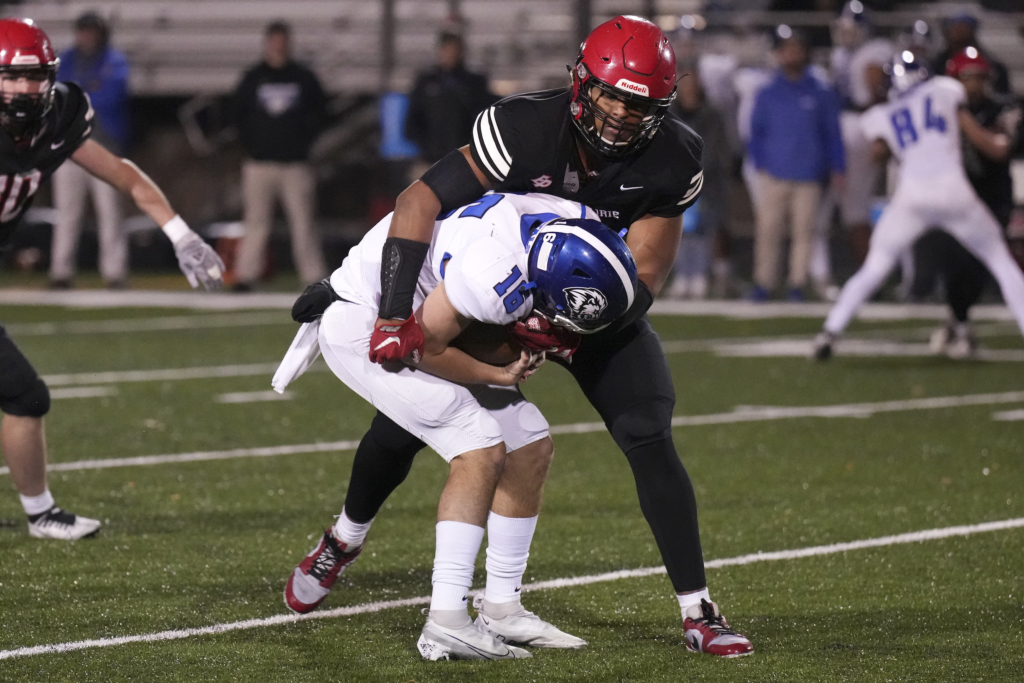 After spotting the Royals a touchdown on the first series of the game, the Eagles defense was unrelenting. Led by Schrieber, seniors Chiddi Obiazor, Adam Mertens and junior Dominic Heim, the swarming front seven suffocated the Royals. After Woodbury's opening touchdown, the Eagles allowed them to cross the 50-yard-line only once in the first half – and that was due to a 15-yard penalty on the Eagles.
"We know we've got to come out with a lot of energy," Obiazor said. "And it's also a playoff game. So win or go home, you've got to come out with a lot of energy and a lot of heart."
Woodbury's first-half touchdown came on a 72-yard pass play. But when the Royals tried to go back to the air, the Eagles forced turnovers. Mertens and senior Noah Bonin both came away with interceptions in the first half.
Mertens' takeaway set up the offense at the Woodbury 42-yard-line, leading to Heim's 1-yard plunge for a touchdown and a 28-6 lead.
"They came out with that big touchdown but it didn't faze us," Schreiber said. "We kept going, kept pushing. We just settled down and kept doing our job."
Offensively, the Eagles overpowered Woodbury with a punishing ground game. Junior Hawken Hedlund led all rushers with 91 yards on 8 carries. Junior Liam Berndt added 68 yards on 6 carries, and senior Tyler Walden rushed for 67 yards on 12 carries and two touchdowns.
Before the night was over, the Eagles posted 450 yards rushing on 58 carries, with 14 different players carrying the ball.
"We moved the ball pretty much the whole game with no issues," senior quarterback Nick Fazi said. "The O-line blocked great, the running backs hit their holes and we just executed."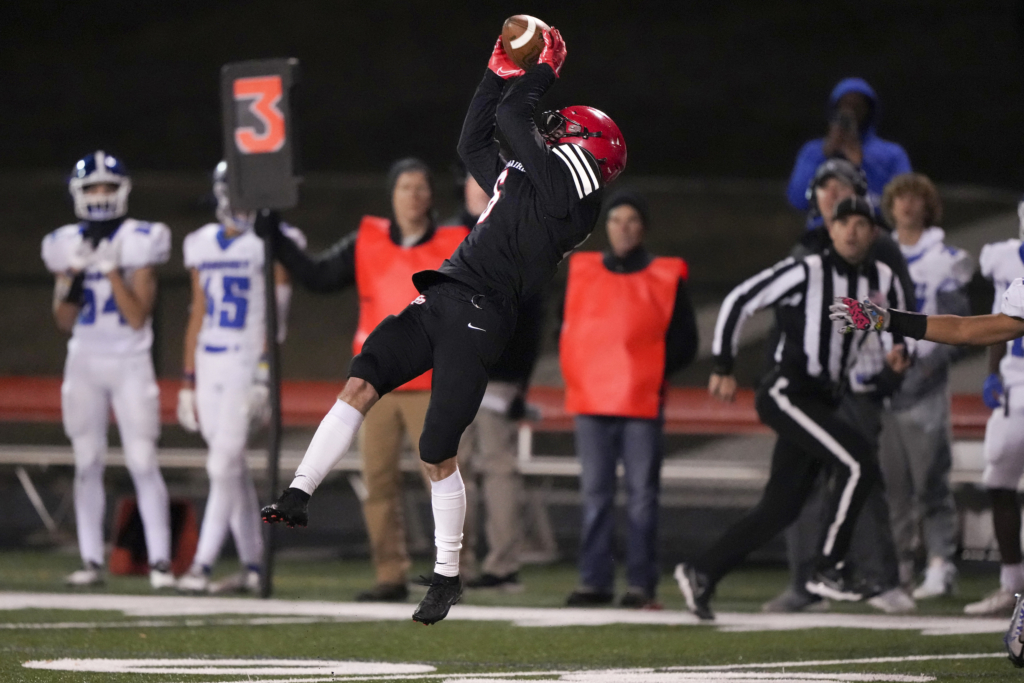 Fazi returned to the lineup after suffering a knee injury against Stillwater in the regular season finale. After sitting out the first-round playoff game last week against Eastview, Fazi was 2 for 4 passing for 26 yards and ran for a first-half touchdown.
"I'm feeling really good," Fazi said. "It was good to get a week off and then have David (Ivey) go in for the second half tonight. There's no point in risking something again."
Ivey was 3-for-3 passing for 67 yards and rushed for a second-half touchdown in relief of Fazi. Junior quarterback Zander Hemmesch also saw action in the fourth quarter.
Senior Devin Jordan opened the scoring with a 3-yard run on the first offensive series. Seven players scored touchdowns, including senior defensive tackle Nicholas Quirin on a 3-yard dive in the third quarter.
Senior wideout Michael Gross led receivers with two catches for 40 yards.
The Eagles kicking game was flawless for another week. Junior placekicker Luca Ratkovich was 5-for-5 on extra points, while junior Morgan Koch went 2-for-2.
But the Eagles final touchdown didn't require a P.A.T. attempt. With 11 seconds remaining in the game and the Eagles content to run out the clock, sophomore running back Elijah Rumph broke loose for a 73-yard touchdown and crossed the goal line as time expired.
No extra point necessary. Rumph's romp was an exclamation point on a thorough domination of Woodbury and berth in the state quarterfinals, where the Eagles will be presented with an opportunity to avenge their earlier loss to Shakopee.
"It feels great to get (Shakopee) back," Chiddi said. "And even better, it's a playoff game. High stakes, win or go home makes it even better."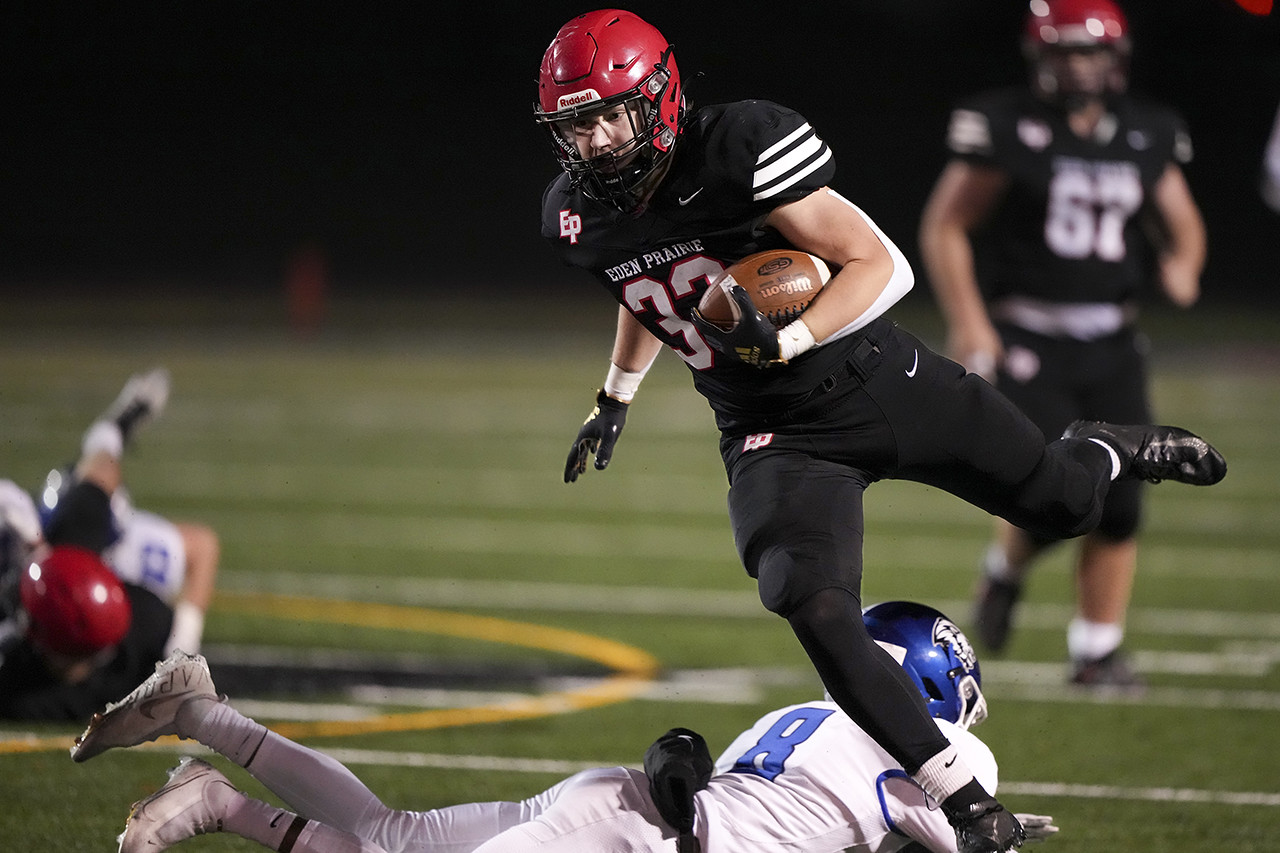 The state quarterfinal game against Shakopee will be played on a neutral site at Park Center High School. Forecasts call for a chilly night on Thursday, but the winner moves on to play the remainder of their games indoors.
"We've got to play great," Grant said. "We're right where you want to be, playing great and in the state quarterfinals with a chance to go down to U.S. Bank. That's all you can ask for."
And you can be sure the Eagles will be ready. Even if they have to practice all night.