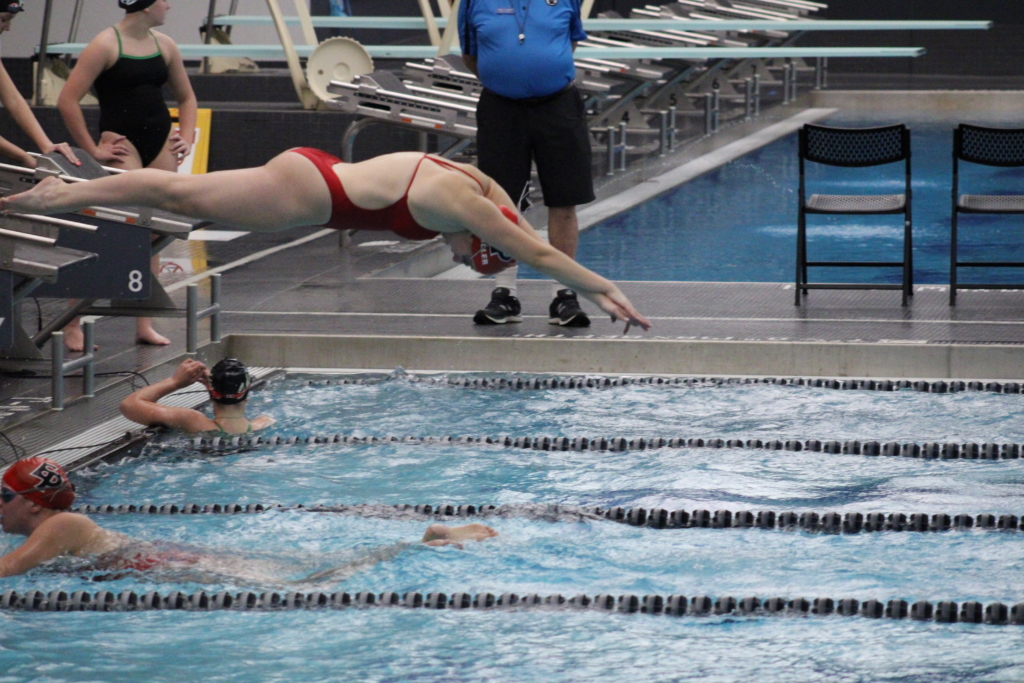 With new head coach Christine Retzlaff at the helm, Eden Prairie High School's (EPHS) girls swim and dive team has been working hard this season on form, conditioning, and race strategy.
Retzlaff said that despite being a young team with many graduated seniors and new swimmers, the girls have been putting in strong performances at recent meets and are looking forward to upcoming championship meets.
A supportive, inclusive, and enthusiastic team
Girls swim and dive is one of the few no-cut sports at EPHS. This means that in any given year, the team can have a wide range of experience and ability, from Olympic qualifiers to year-round club swimmers to swimmers competing for the first time. Of the EPHS divers, three out of four are new to the sport this year, Retzlaff said.
EP girls swim and dive has the reputation of being a lot of work, but also a lot of fun.
Senior captain Lily Cooper said, "Swimming is overall a very grueling sport. To spend two to three hours practicing five to six times a week can be exhausting. However, it is completely worth it when you finally get the time you want and to be around a team where you can have the most fun."
In addition to training and competition, the team focuses heavily on team building, as well as bonding with pasta dinners and fun games before meets.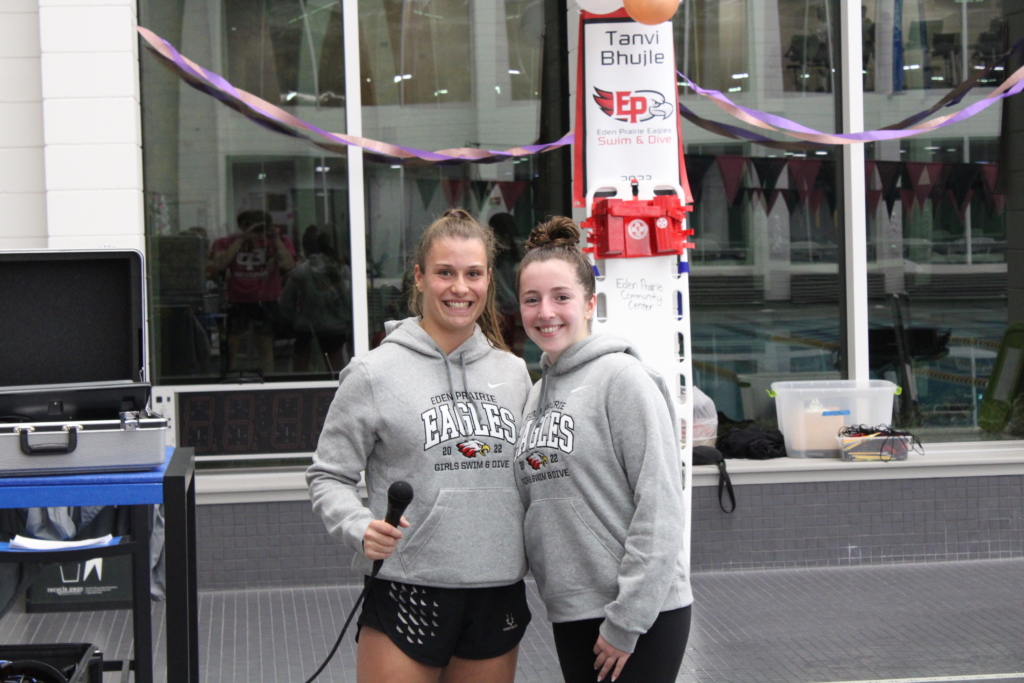 German exchange student and EPHS junior swimmer Alissa Leitloff said that compared to her team back home, "The practice is more fun, and there are more teammates so it's better. We also use lots of equipment like snorkel and fins. There are more coaches on deck, so we get more feedback."
She said the team-oriented environment is also different.
"In Germany, it's more competitive," she said. "You swim against individuals there instead of keeping score like we do here. The atmosphere here is better because it's important that the team is good, not just yourself."
Leitloff said she's enjoying the experience. "All the girls on the team are really nice and friendly," she said, adding the crowd support and team support at meets are also fun. "We don't have cheers in Germany, so team cheers were new to me."
Cooper agreed: "There is no other swim team or another team at EPHS quite like the girls swim and dive team."
EP vs. Edina home meet also celebrated Senior Night
On Oct. 6, EP swim and dive hosted Edina for a Lake Conference meet. Despite the Hornets winning over the Eagles, Retzlaff said, "The girls swam extremely well at this meet. It is in the middle of the season, and we had weights in the morning and girls were still swimming season and lifetime best times."
Some of the top swims for EP girls were:
Junior Keira Fogarty hit a season-best in the 50 free at 26.62 for third.
Freshman Lilia Roberts went a lifetime best time of 5:19.05 in the 500 free for second.
Sophomore Sally Grajkowske neared a lifetime best in the 100 fly at 1:05.89 for fourth.
Freshman Izzy Charewicz dropped three seconds for a lifetime best in the 100 back with a time of 1:13.85.
Honored during Senior Recognition Night were the team's eight seniors: Maya Bond, Tanvi Bhujle, Taylor Clark, Lily Cooper, Merritt Miller, Pooja Muruganandan, Nora Roberts, and Ellie Watanabe.
"The seniors are great role models for the team, both in and out of the pool," Retzlaff said. "The team will definitely miss their leadership next year."
Seniors and their families were recognized during the meet, and the junior swimmers and divers created a festive mood complete with princess decorations. After the meet, juniors gave speeches in honor of the seniors, and everyone enjoyed desserts.
EP girls swim and dive seniors.

Junior Ella Drewes and senior captain Lily Cooper.

Senior Ellie Watanabe and junior Keira Fogarty.

Junior Al Amundsen and Senior Taylor Clark.

Watanabe, Clark, Miller, Bhujle, and Bond open their gift bags

The junior swimmers gave speeches to the seniors.

Senior captain Tanvi Bhujle and junior Madeline Zarse.

Seniors Lily Cooper, Nora Jacobs, and Pooja Muruganandan.
EP vs. Minnetonka
The Eagles went up against Minnetonka on Oct. 11 in an away meet. Despite Minnetonka coming out ahead, the Eagles turned out some strong performances.
Some of the top swims were:
Senior Maya Bond earned a season-best time of 2:15.20 and a second place in the JV 200 free.
Freshman Lilia Roberts won the varsity girls 200 free with a season-best time of 2:01.84.
In the 200 IM, freshman Sydney Thompson placed third in JV with a season-best of 2:32.53.
Senior Merritt Miller came second in varsity with a season-best swim of 2:20.64.
True Team meet
On Oct. 15, EPHS took part in the True Team meet in Edina.
Unlike most regular-season meets where only the top six swimmers earn points, in the True Team meet, each swimmer earns at least one point per event. Each team can enter up to four athletes per event, and four relay teams per event.
The Eagles swam hard and placed fourth overall.
Retzlaff said the meet came at the end of a busy week.
"This is what I call the 'tired' part of the season before we go into our taper," Retzlaff said. "The girls had practice all week, weights on Tuesday and Thursday morning, swam the Minnetonka duel Tuesday night, and came back and competed in True Teams on Saturday."
JV championships, varsity sectionals coming up
Next up, the team is preparing for the JV championship and section meets. JV Conference Championships will be held at Southview Middle School in Edina. Diving will be on Friday, Oct. 28, and swimming on Saturday, Oct. 29.
The varsity sectionals meet will be Nov. 9-11 at Hidden Oaks Middle School in Prior Lake.
"The girls are resting and ready to swim fast and dive well," Retzlaff said.
Comments
We offer several ways for our readers to provide feedback. Your comments are welcome on our social media posts (Facebook, X, Instagram, Threads, and LinkedIn). We also encourage Letters to the Editor; submission guidelines can be found on our Contact Us page. If you believe this story has an error or you would like to get in touch with the author, please connect with us.