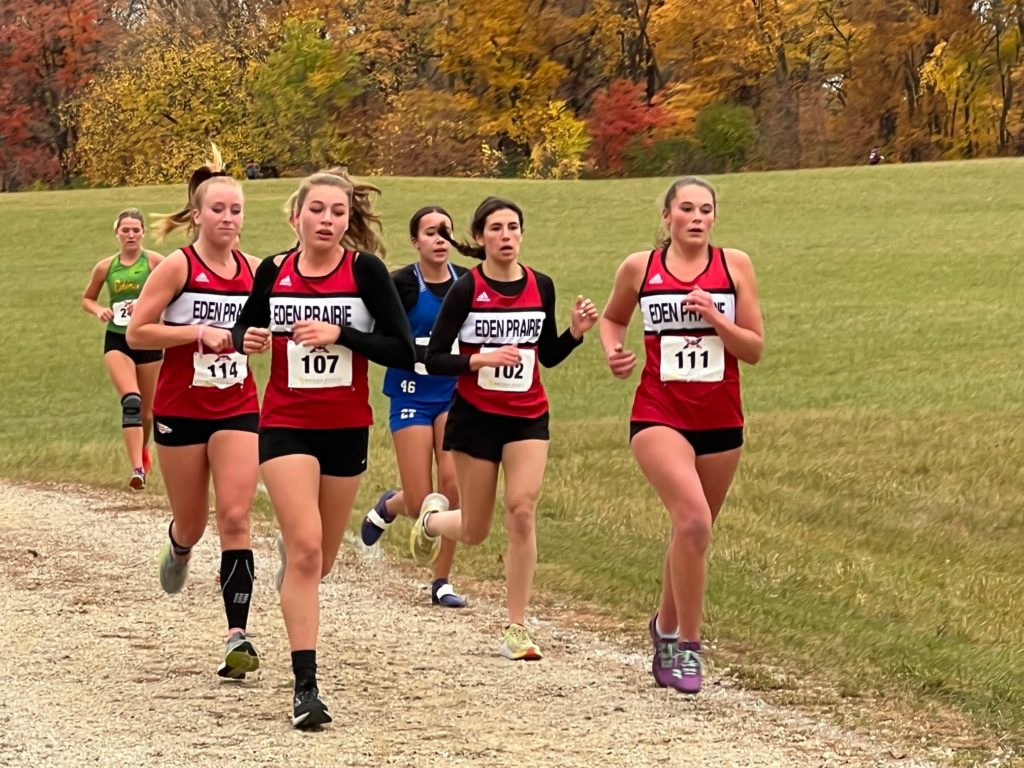 Eden Prairie cross country (EPXC) ran hard in a highly competitive field at the Lake Conference Championship on Oct. 13. The Eagles placed third overall behind first-place Wayzata and second-place Minnetonka at Gale Woods Farm in Mound.
Head coach Courtney Brandon said, "It was a solid day for our Lake Conference Championships, with many of our kids running season or personal bests!"
JV girls (L-R) Maren Sims, Mandy Trnka, Gwen Thompson, and Sedona MacFarlane.

JV runner Leah Lobsinger.

Varsity girls runner Berit Berggren in front.

JV girls runners Marleigh Redington (left) and Maggie Lobsinger (center).

Varsity girls (L-R) Makayla Johnson, Amelia Dewberry, and Ani Dierks.

Varsity Eagle Katie Metzger.

Varsity Eagle Sarah Williams.

Varsity girls Lillian Beutz (105) and Nadia Al-Masri (102).

JV girls (L-R) Marleigh Redington, Addison Giannattasio, and Maggie Lobsinger.
The Eagles continued to improve as they took on the competition.
In the Lake Conference meet, girls varsity placed sixth as a team. The top three EPXC finishers pulled off personal best times: sophomore Sarah Williams (19:24), junior Berit Berggren (19:25), and freshman Katie Metzger (20:19)
 
Girls JV also placed sixth as a team, led by senior captain Maggie Lobsinger who ran a personal best of 22:34.
 

JV boys (L-R) Hudeyfi Mahamud, Jackson Kohls, and Dylan Little.

EPXC JV boys Tavin Koenig (left) and Jackson Butikofer (right).

JV boys runner Evan Arvold.

JV boy Tate Wilker (left) and Elijah Magare (center).

JV Eagles (L-R) Owen Caruth and Henry Larson.

JV boys (L-R) Rishi Naagappa (who soldiered on despite losing a shoe), Dylan Little, Jackson Kohls, Blake Chester, and Hudeyfi Mahamud.

Varsity runner and EPHS senior Will Ross.

Varsity boys got to enjoy fall colors as they competed.

Varsity boys runner Tyler Doolittle.

Varsity boys Pallav Chawla and Tyler Little.

Varsity boys Jameson Drieslein (front) and Tyler Little.

Varsity boys runner Jake Heimkes.

Varsity boys (front to back) Matthew Berge, Pallav Chawla, and Jackie Holje.
Boys varsity placed third as a team, led by all-conference runners senior captain Will Ross (16:21) and sophomore Elijah Donaldson (16:36). Brandon noted a "breakthrough performance" from junior Jameson Drieslein, who ran 16:42.  
 
Boys JV placed second as a team. "Big win by sophomore Nathaniel Thomas who ran 16:58 in a personal best time," Brandon said.
Lefty Wright and Sectionals are next week
The team is now looking forward to their final meets as the season draws to a close.
Athletes not competing in the upcoming sectional championships will run in the Lefty Wright Grade Level Race, to be held on Monday, Oct. 24, at Bassett Creek Park in Plymouth.
Brandon said the meet "is an opportunity for the top JV runners in the area to race against other runners in their age group. It will be fun to see our athletes finish their season in a race where they are competing against the area's top junior varsity runners!"
On Tuesday, Oct. 25, EPXC's top seven runners will compete in the Section 2AAA Championship Meet at Gale Woods Farm in Minnetrista.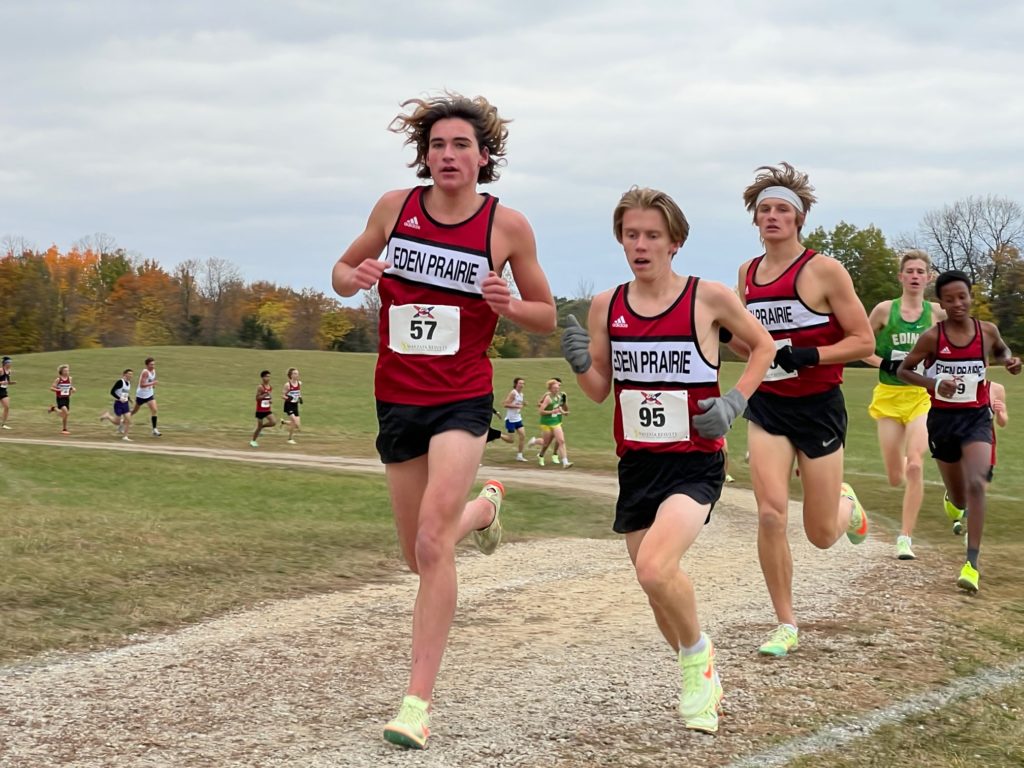 The top two teams in that meet, plus the top six individual runners not on qualifying teams, will qualify for the state meet. That will be held on Saturday, Nov. 5, at St. Olaf College in Northfield. 
 
Brandon said, "Our student-athletes have been working all summer and fall to prepare for this meet. We are so proud of this group, and they are ready to run fast and compete as a team. We are excited to see what they can accomplish and are hoping to get as many student-athletes to the state meet as possible."
 
Comments
We offer several ways for our readers to provide feedback. Your comments are welcome on our social media posts (Facebook, X, Instagram, Threads, and LinkedIn). We also encourage Letters to the Editor; submission guidelines can be found on our Contact Us page. If you believe this story has an error or you would like to get in touch with the author, please connect with us.