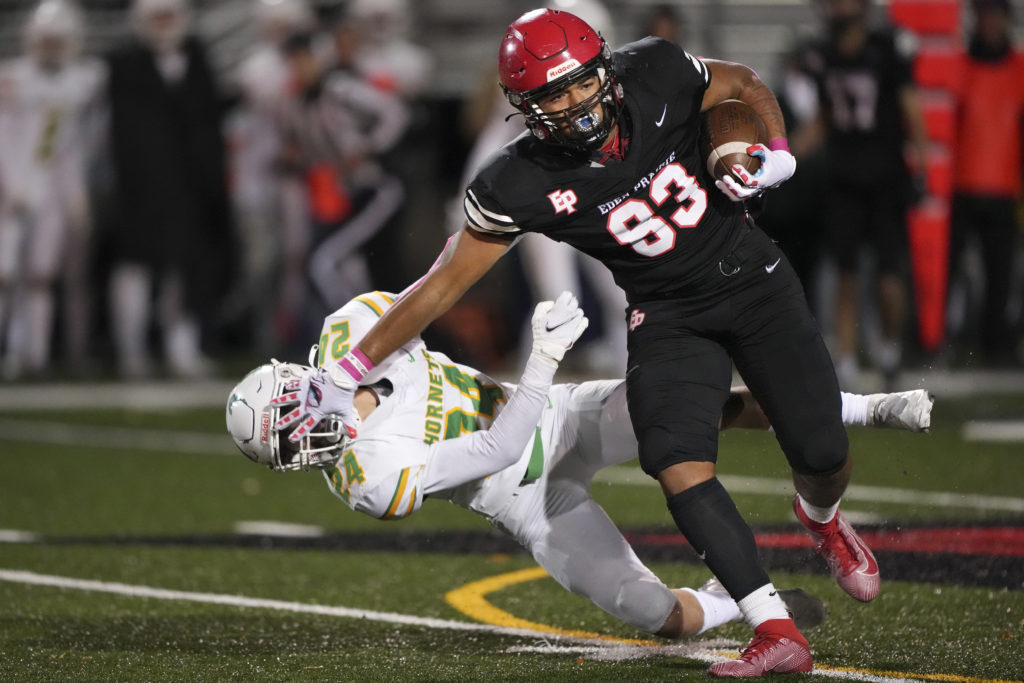 The Eden Prairie Eagles have put their past behind them and are looking to the future. Meanwhile, the present consists of improving their record to 5-2 after crushing Edina 42-16 Friday night at Aerie Stadium.
In the rearview mirror, getting smaller and smaller with each touchdown against the Hornets, is the Eagles' loss to Shakopee last Saturday afternoon. That game was moved to the day of the week typically reserved for college ball after a lockdown at Eden Prairie High School last Friday.
"It was fine, it was fine," said Eagles head coach Mike Grant, referring to the week of practice. "We had a great week. The kids know everything we want to accomplish is still there."
Grant, of course, is referring to his team's future. After their convincing win over Edina, the Eagles are now looking ahead to the section playoffs, where they hope to earn a favorable seed. But they have one large obstacle on the road to the postseason.
Unbeaten Stillwater is ranked No. 3 in the Star Tribune metro poll. The Ponies are 7-0 after their 35-7 win over Mounds View last night. To find an advantageous placement in the playoffs, the Eagles will need their best game of the season when the teams square off Wednesday night in the regular season finale.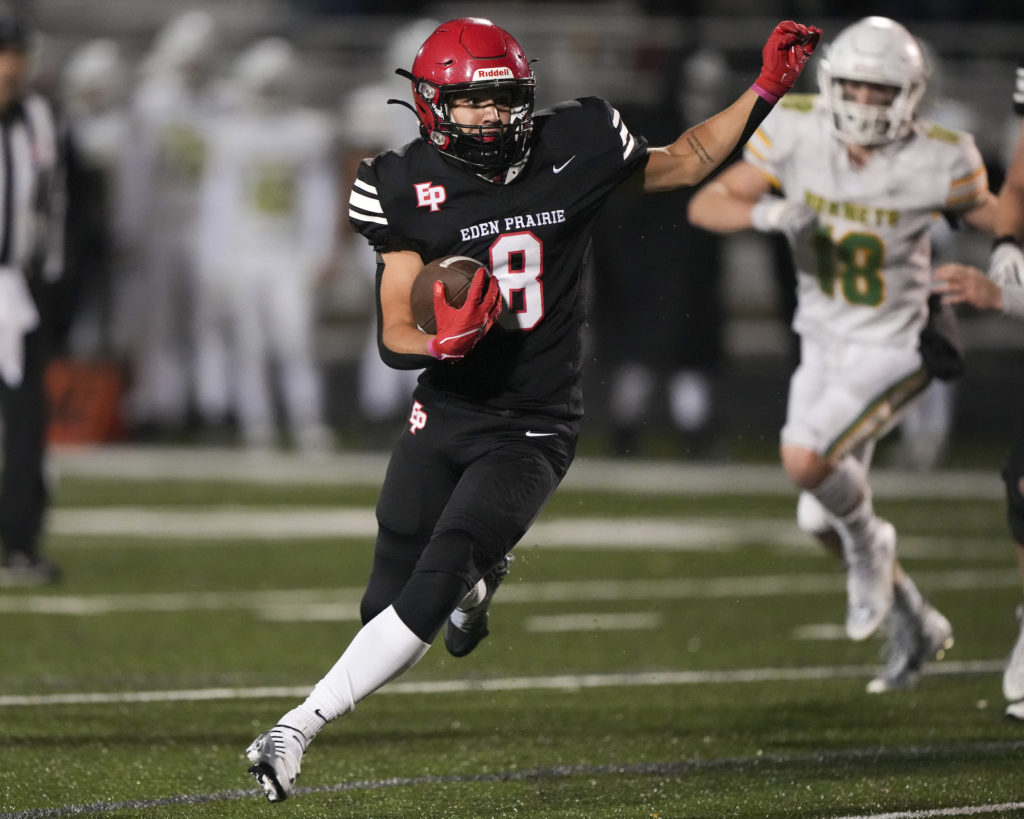 "Stillwater is a great team. It's a big game for seeding," senior quarterback Nick Fazi said. "So we have to go in there focused, play good, play hard and execute."
The Eagles' clash with the Ponies – to be played in the charming town along the St. Croix – will be an entertaining matchup if they execute as they did against Edina.
Eden Prairie's offense spread the ball around generously against the Hornets, with five different players scoring touchdowns for the Eagles.
"We just came together after a tough game (last week) and we played well up front," senior tackle Andrew Kaiser said. "Our receivers were getting open, our backs were hitting the holes and we just had a lot better game offensively."
Senior running back Toby Frost suffered a broken fibula in the Eagles' loss to Shakopee last Saturday. He will be out for six weeks and hopes to be back for a deep playoff run. In the meantime, the Eagles did their best to compensate by giving the ball to a number of players.
"We've got kids that know how to play," Grant said. "We can just keep trying different kids."
Grant tried giving the ball to junior Terae Dunn, whose 14-yard touchdown run opened the scoring on the Eagles' first series. The Eagles also found the endzone with seniors Tyler Walden, Devin Jordan and Caylor Ellis.
"We have a lot of guys that can carry the ball," Fazi said. "It helps a lot and makes teams think more. It just gives us a lot more to work with."
Junior Dominic Heim, who spends most of his time as a starting linebacker, carried the ball for two touchdowns.
"That's great blocking from my O-line," Heim said. "Playing some fullback, I do more blocking but it's fun getting some touchdowns."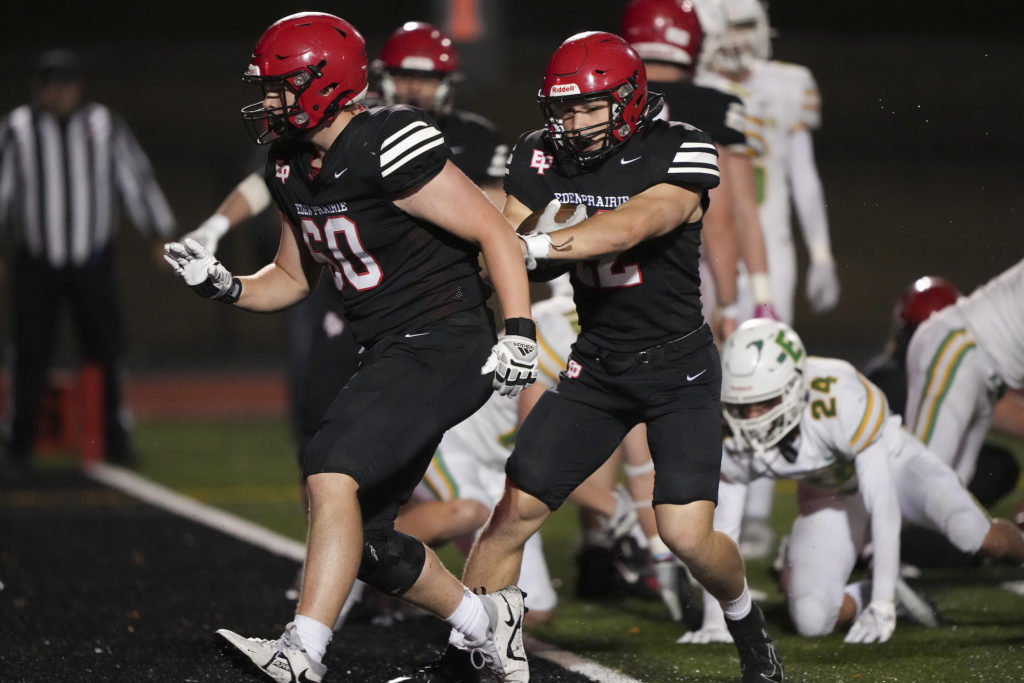 Touchdowns were plentiful as the Eagles cruised to a 28-0 halftime lead. Fazi had a solid passing performance, finding Jordan and seniors Jermell Taylor and Michael Gross for big yards in the air.
"We played great. We came out here and just played our hearts out," Taylor said. "We had a great week of practice. We were focused during practice and we didn't want to lose again. We balled."
The defense held Edina scoreless through the first seven series of the game. The Eagles came up with two interceptions of Edina quarterback Finn McElroy. The first, by Jordan in the first quarter, led to the touchdown by Walden. Senior defensive back Cade Hutchison got the second takeaway for the Eagles right before halftime.
Edina scored two late touchdowns and 2-point conversions after the Eden Prairie starters were pulled from the game. The convincing win provided an opportunity for a number of reserve players to find action and with good timing. It was senior night in Eden Prairie and a time to celebrate for the entire team.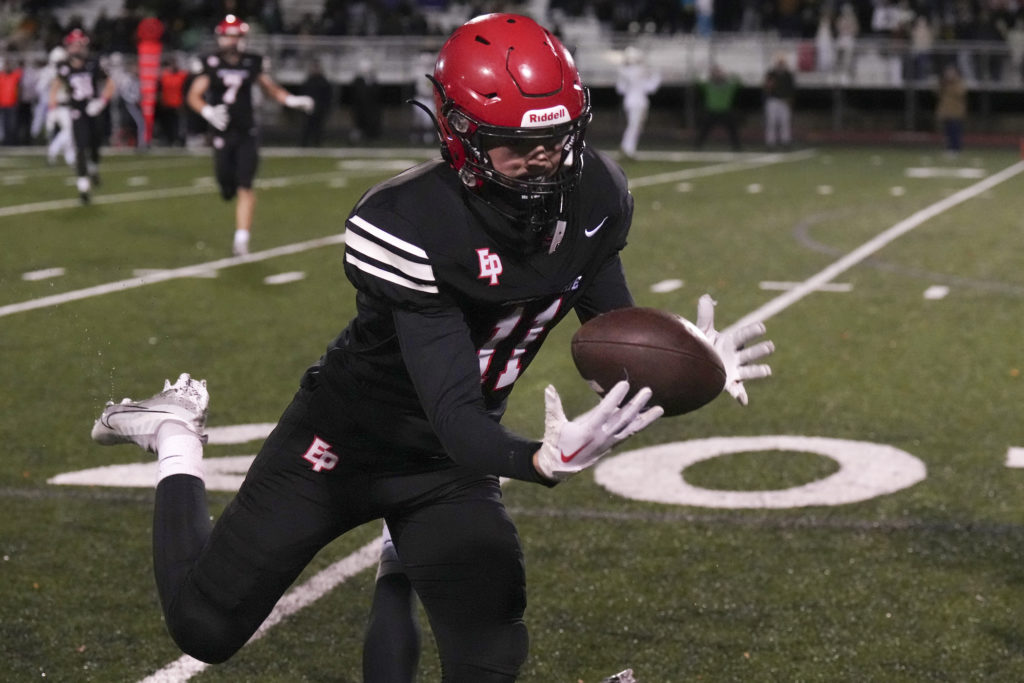 "I feel good about it because of what I've accomplished. I came a long way and grew and got better through all my years of playing football," Taylor said. "We're brothers. And I know I'm really close with all of them."
Added Kaiser, a fellow senior, "It's not going to be our last game here, but it was really cool to come out with the parents at the start of the game."
The Eagles will need their seniors – and juniors – and sophomores – to be at their best in Stillwater on Wednesday night. Their showdown with the Ponies ahead of MEA weekend will set the stage for a competitive postseason.
"We played a great game and we've got no time to celebrate," Grant said. "You got to play quarter after quarter after quarter and now we've got four quarters to hopefully the No. 1 seed."
Comments
We offer several ways for our readers to provide feedback. Your comments are welcome on our social media posts (Facebook, X, Instagram, Threads, and LinkedIn). We also encourage Letters to the Editor; submission guidelines can be found on our Contact Us page. If you believe this story has an error or you would like to get in touch with the author, please connect with us.