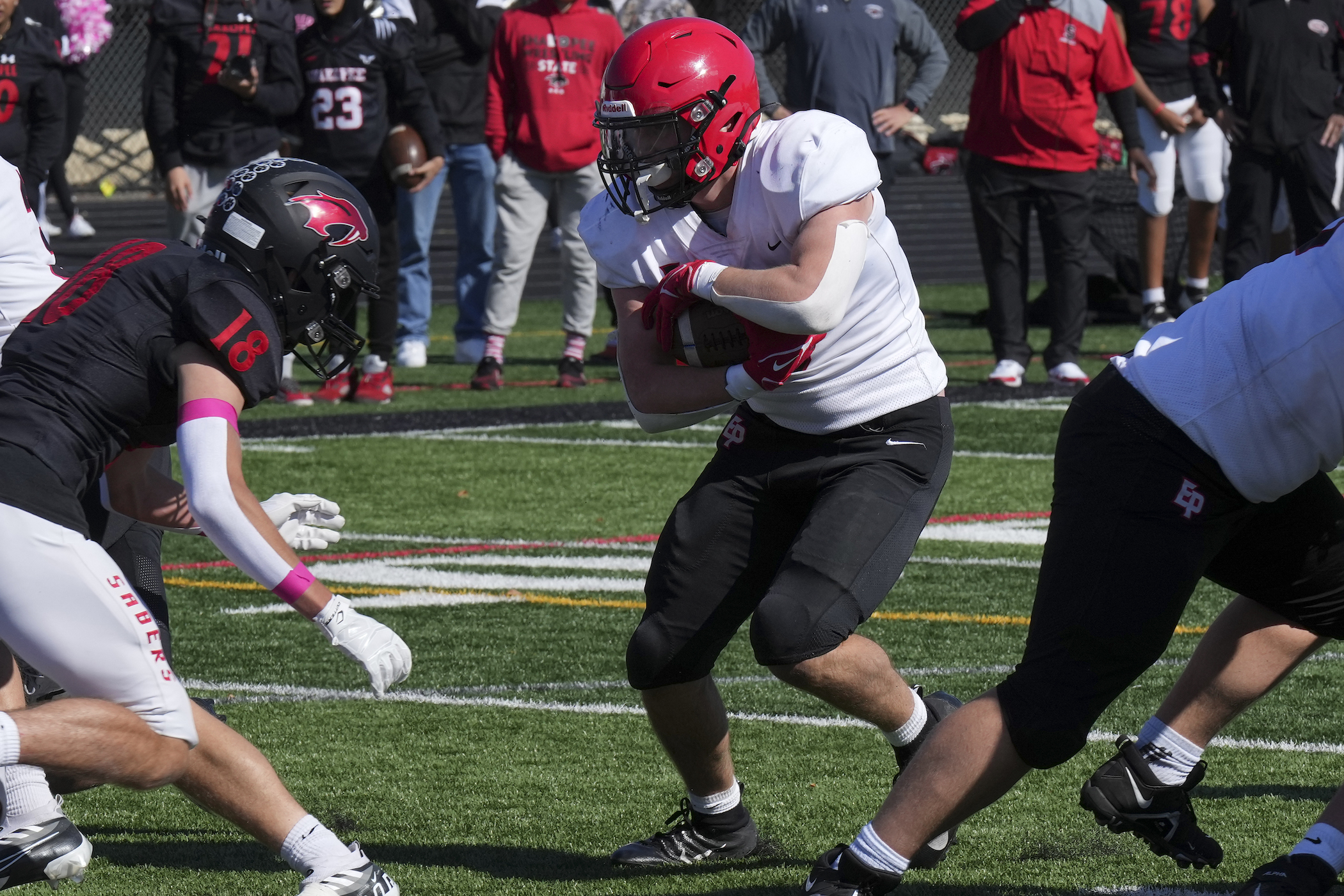 In a game that was scheduled to be played Friday night under the lights in Shakopee, but moved to Saturday afternoon, the fourth-ranked Eden Prairie Eagles fell to sixth-rated Shakopee 31-14 at Vaughan Stadium.
Shakopee opened the scoring on their first offensive series with a 74-yard touchdown run by senior Garrison Monroe.
Gusty winds were a factor all afternoon, and the Eagles took advantage of having the wind at their backs in their first-quarter passing game. Senior quarterback Nick Fazi connected with senior wide receiver Michael Gross for a 50-yard play down the sideline to the Shakopee 30-yard line. Two plays later, senior running back Tobin Frost raced by the Sabers' defense for a 25-yard touchdown to tie the score at 7.
The Eagles relied more on their running game as they played into the wind in the second quarter. Senior running back Tyler Walden capped off an 88-yard scoring drive with a 2-yard touchdown run. Walden fumbled just as he was crossing the goal line but recovered the ball in the end zone for the touchdown and a 14-7 Eden Prairie lead.
Shakopee scored right before the half to tie the game at 14, displaying a punishing running attack led by senior running back Jadon Hellerud.
The Sabers controlled the ball as well as the clock in the second half, scoring two more touchdowns and kicking a field goal in the second half, Their fourth-quarter drive chewed up 9:18 off the clock and led to a touchdown that put the game out of reach with 1:02 to play.
Shakopee improves to 5-1 with the victory. The Eagles fall to 4-2 and host Edina next Friday for senior night.
Comments
We offer several ways for our readers to provide feedback. Your comments are welcome on our social media posts (Facebook, X, Instagram, Threads, and LinkedIn). We also encourage Letters to the Editor; submission guidelines can be found on our Contact Us page. If you believe this story has an error or you would like to get in touch with the author, please connect with us.