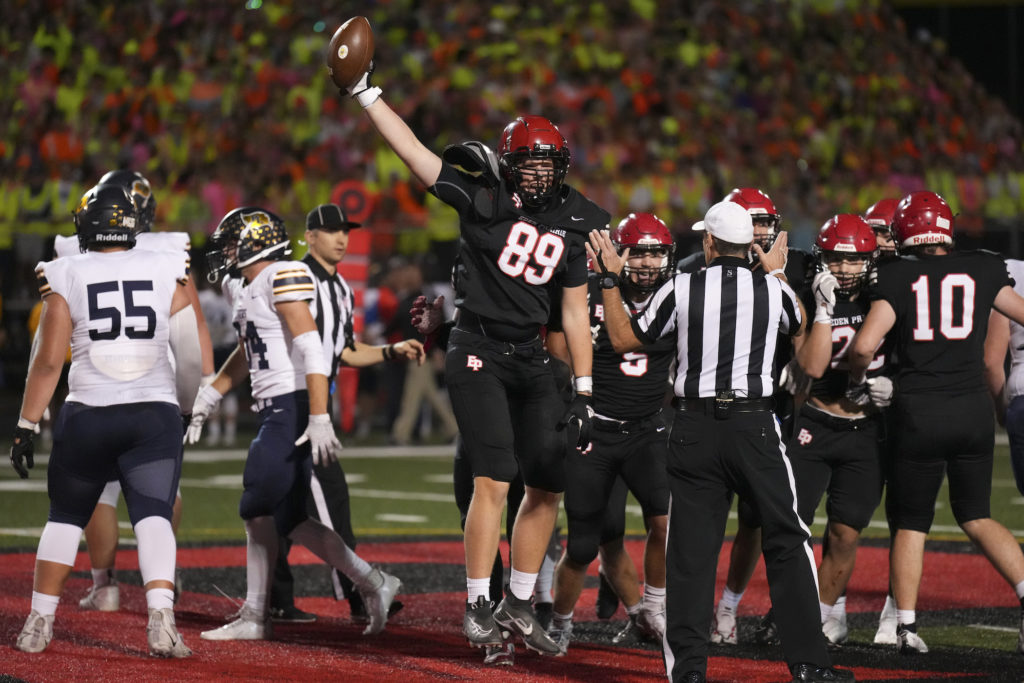 Eden Prairie head coach Mike Grant had a wry smile on his face after the Eagles' showdown with Prior Lake Friday night.
Grant's team had been upset by Rosemount the week before, and they started this week's contest by spotting Prior Lake 7 points compliments of the Lakers' opening kickoff return that went 85 yards for a touchdown.
"We had them right where we wanted them at that point," Grant said with a mix of deadpan and a twinkle in the eye.
The coach recalled twice giving up opening kickoffs for touchdowns in two prep bowl games against Cretin-Derham Hall. So when the Lakers' Joey Krouse raced 85 yards to paydirt before the homecoming court could even sit down, Grant saw the setback as a teaching opportunity.
"We always tell the kids, 'when we go down 7-nothing, we have them right where we want 'em,'" he said. "You've just got to be calm, it's a long game. Give them credit. They made a great play."
That ice-breaker would be the only great play for the second-ranked Lakers. The Eagles, entering the game ranked fifth in the Star Tribune Metro Poll, kept their composure and relied on a sustained running attack and solid defense to hand Prior Lake their first loss of the season with a commanding 28-14 homecoming victory.
"The defense played well. The offense played well," said senior defensive end Chiddi Obiazor, who blocked a punt that set up a second-quarter touchdown for the Eagles. "I just felt like after last week, we were a little bit slow out of the gates, so we had to come harder and faster this week."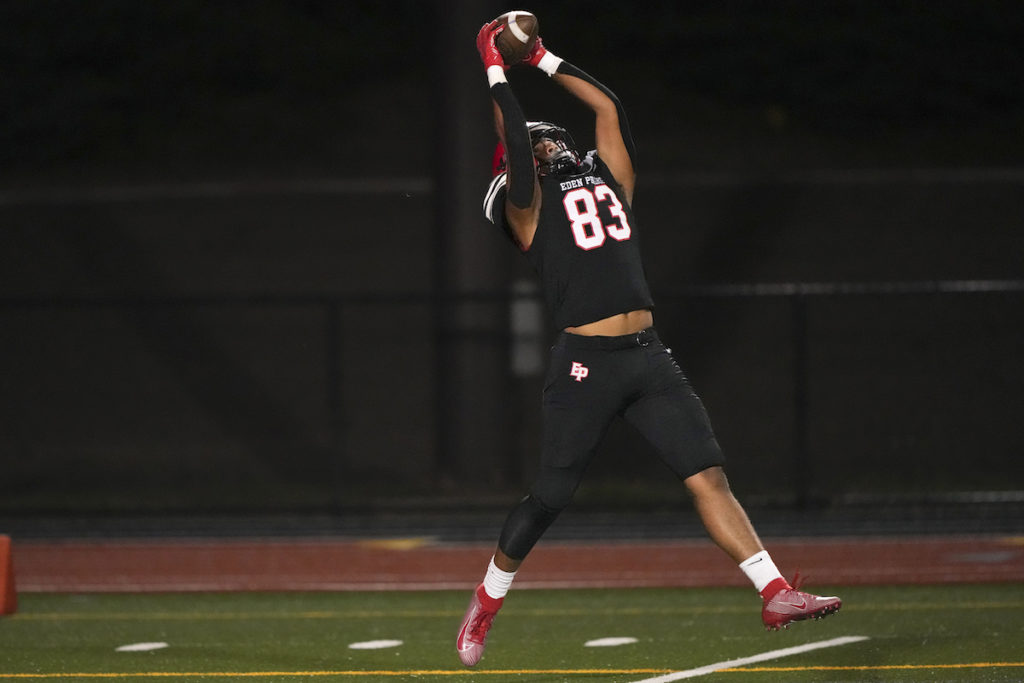 The Eagles came out faster than the traffic on Highway 212. Junior running back Liam Berndt and senior running back Tyler Walden found gaping holes for big gains throughout the first half, behind solid blocking from the Eagles' offensive line. On their second offensive series, Walden raced 22 yards for a touchdown to tie the game at 7.
"The O-line was doing great," junior tackle Ethan Sims said. "We were getting our plays, taking the right steps. We really were getting it down and staying low. It was all about staying low tonight."
It was also about going up top as the Eagles began the second quarter by opening up the passing game. Senior quarterback Nick Fazi found Jermell Taylor entirely uncovered – with no Prior Lake defender within 20 yards of the senior tight end. Their 35-yard scoring connection gave the Eagles a 14-7 lead.
"Offensively we moved the ball enough," Grant said. "And our defense did a great job against the team that's been running up a lot of yards and a lot of points against people."
The Eagles' defense forced two punts on Prior Lake's first two offensive possessions. But the momentum took an irreversible swing on the Lakers' third offensive series when senior defensive back Devin Jordan tipped a Prior Lake pass into the hands of junior Dennis Rahouski.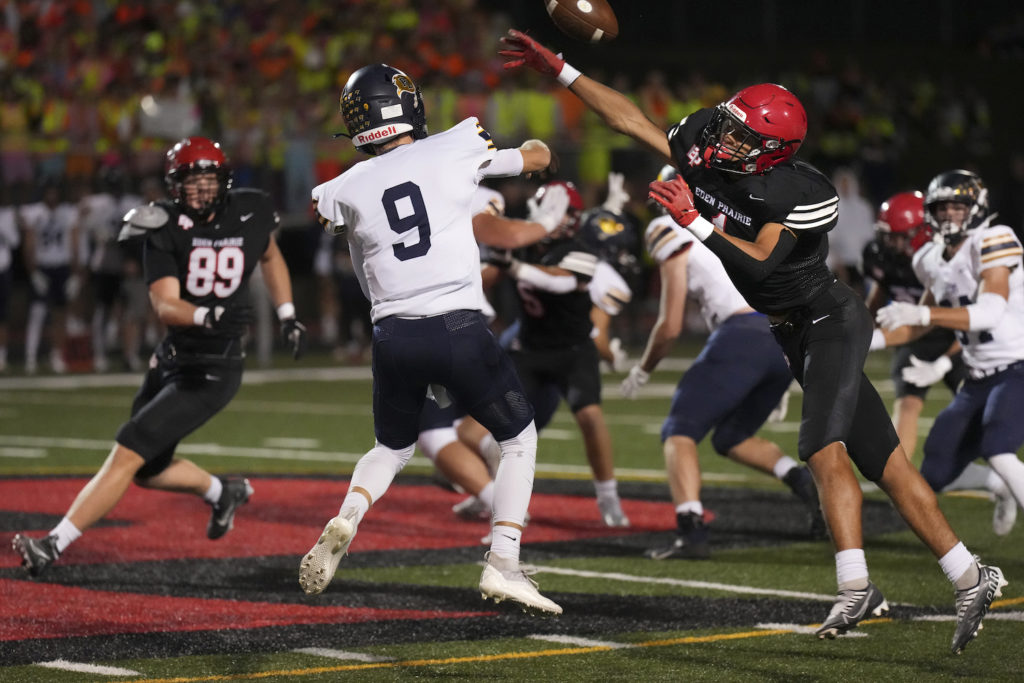 "I came in on a blitz," Jordan recalled after the game. "Their QB started rolling out the opposite side, but kept going and just got a hand on the ball. I'm glad our D-lineman got a pick."
The Eagles wasted no time capitalizing on the takeaway. Walden raced 36 yards to the Prior Lake 5-yard line. On the following play, Jordan, playing both ways, cashed in on his tipped pass with a touchdown run that gave the Eagles a 21-7 advantage.
"That play definitely switched the momentum," Jordan said. "And from there on, it felt like everything was going our way."
The Eagles' special teams delivered more scoring opportunities before the end of the first half. Obiazor's punt block was recovered on the Prior Lake 3-yard line. Walden scored his second touchdown of the night with a 1-yard run to give the Eagles a 28-7 lead at halftime.
"Our defense was on it," Obiazor said. "I felt we were playing with emotion for each other and we were just playing for our teammates and each other."
Prior Lake managed their only offensive touchdown in the second half to make it a two-score game. But behind an unyielding defense and a clock-burning run game, the Eagles controlled the line of scrimmage for the remainder of the game.
"You kind of have to feel your way through a season," Grant said. "And I felt like we hit our stride tonight. The kids had a good week of practice in terms of focusing on what they had to do."
A dominant performance on both sides of the ball – along with a postgame celebration on the field with parents, students and fans – erased any lingering frustrations from the week prior.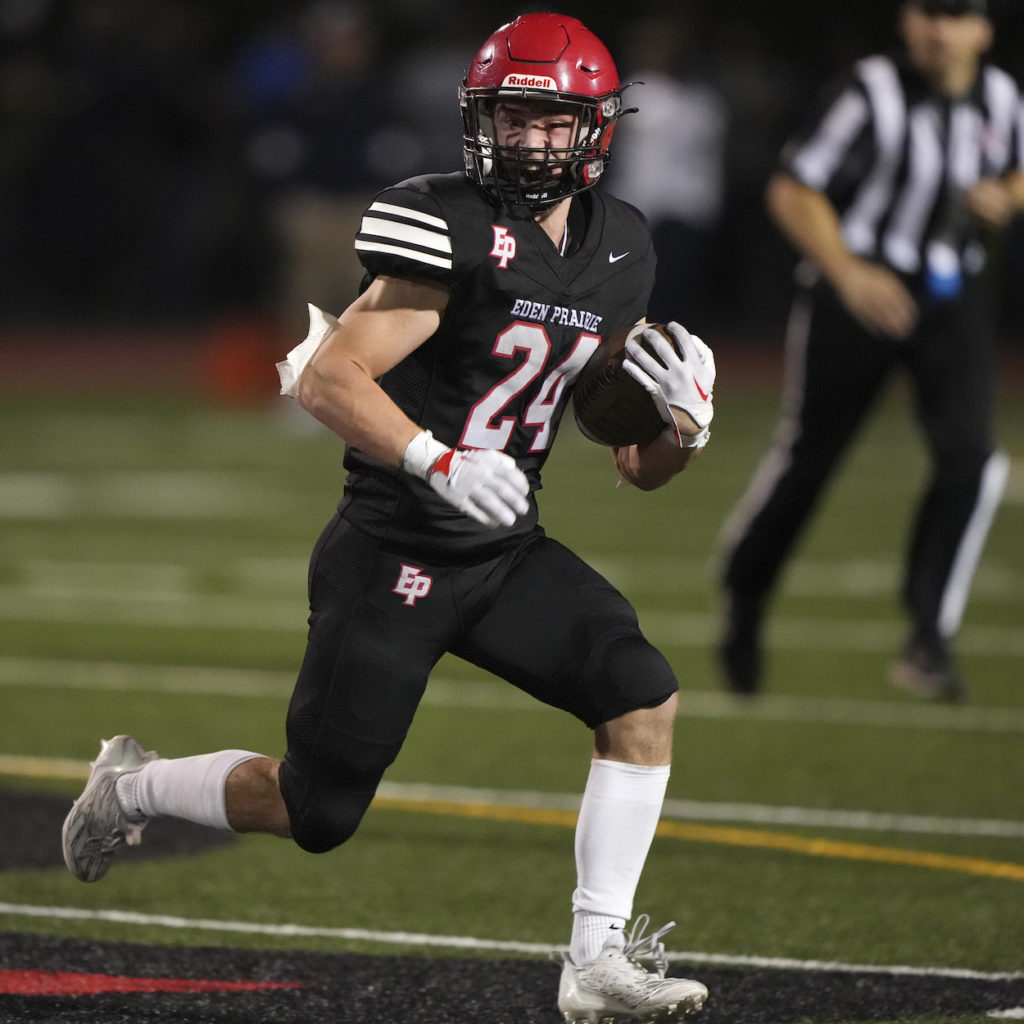 "I think it proved that we can come back from anything," said Berndt, who had his most productive night to date. "The best way to get back up was just winning tonight against a great team."
The 28-14 homecoming victory elevates the Eagles to 4-1, while previously unbeaten Prior Lake drops to 4-1 with the loss. Eden Prairie travels to Shakopee next Friday night to take on the Sabers.
Big turnout for homecoming
EPHS associate principal of student activities Russ Reetz needed only to refer to his smartphone to call up attendance figures for the homecoming game.
Since EPHS went to a cashless format last season, attendance totals can be tallied in real-time. At halftime of Friday's game, Reetz counted over 5,500 spectators in a packed Aerie stadium. The total number is based on pregame and gate digital sales, student passes and punch card passes.
Reetz, who was the activities director at Prior Lake before coming to Eden Prairie to lead its athletics department, was thrilled with the victory but couldn't help but feel for his former school.
"Some of my best friends are on that sideline," Reetz said. "My kid played on that team so I want them to do well. But I'm very happy where I am now."
Comments
We offer several ways for our readers to provide feedback. Your comments are welcome on our social media posts (Facebook, X, Instagram, Threads, and LinkedIn). We also encourage Letters to the Editor; submission guidelines can be found on our Contact Us page. If you believe this story has an error or you would like to get in touch with the author, please connect with us.