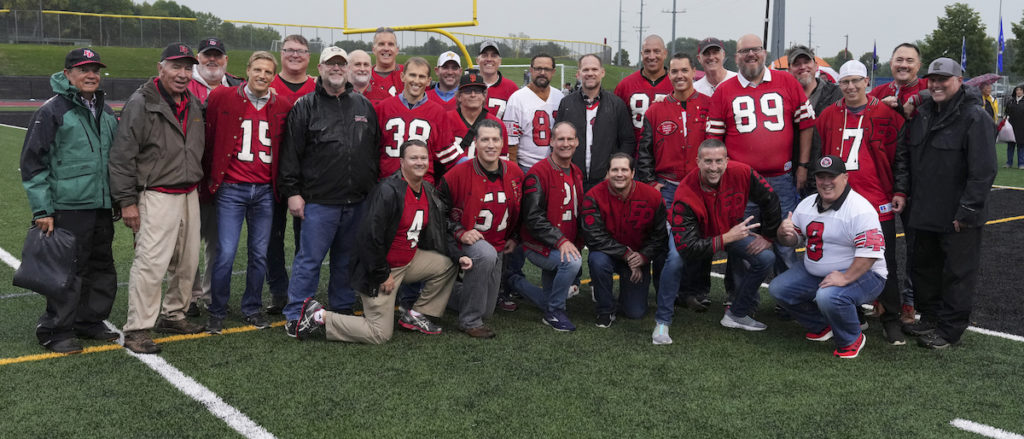 They made the trip from all parts of the country, flying in from California and Texas; others arriving from Ohio, Colorado and Tennessee. Many came from parts of the Twin Cities metro and greater Minnesota.
All of them gathered under the lights this past Friday night, on the same field they played football 30 years ago.
They are members of Mike Grant's first team at Eden Prairie High School and have become known as "the team that started it all."
They came together to commemorate Grant's 30 years as the Eagles' head coach and remember a magical season in 1992, which began a remarkable run that continues to the present season.
"First and foremost it's going to be great to see all the guys that we knew when they were 18 and are now 48 and 49 years old," Grant said before the event on Friday. "The most important thing is to reconnect with some of these players that we had years ago."
Grant came to Eden Prairie after 9 seasons as head coach at Forest Lake (1981-86 and 1989-91), along with a 3-year stint as offensive coordinator at St. John's University.
Following back-to-back 1-7 seasons, Grant's inaugural team compiled a 7-1 regular season record in 1992 and advanced to the region playoffs, where they fell to defending state champion Burnsville.
"We have won a lot of games since then, we've had a lot of great kids," Grant said. "But they were our first champions."
The 1992 campaign marked a turning point for the program, which would go on to win its first state championship just four years later. For the players of that Eagles team, it was an experience they could never forget.
"Collectively, all of us were the football team, the baseball team, the basketball team, some hockey players," said Aaron Clark, the team's defensive player of the year. "This was the most special season of our lives, So to this day, it's been a point of common ground for all of us."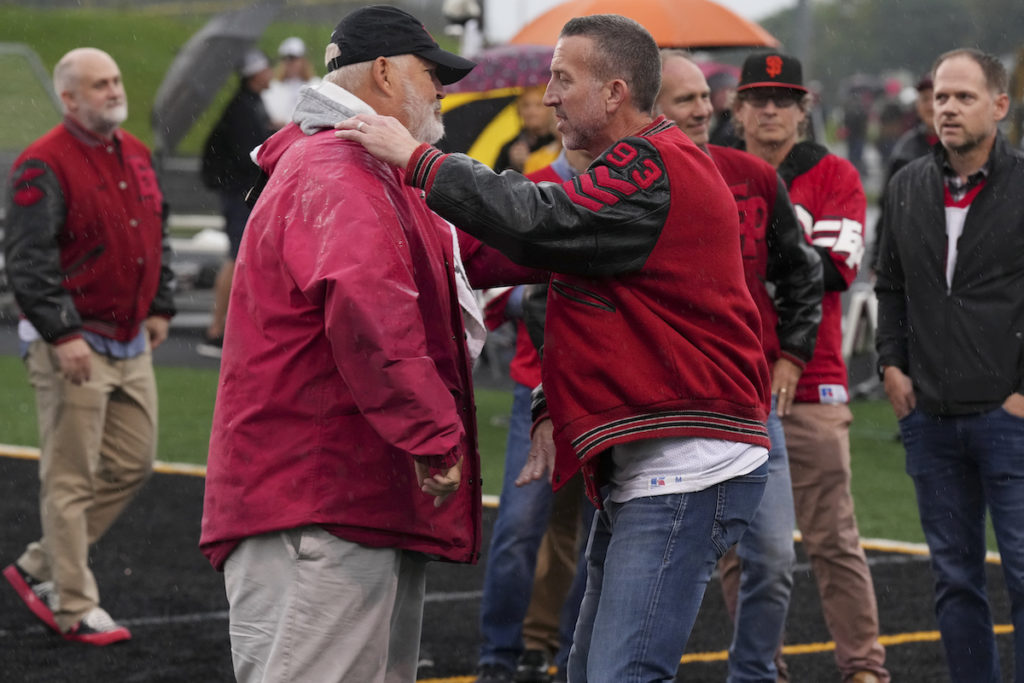 Clark, who now lives in Nashville, was responsible for organizing the event. As he and his teammates congregated on the field before the game, he recalled how some of them considered forgoing their final season before Grant arrived.
"Several of us were questioning if we were even going to play football our senior year," Clark said. "But from the first meeting, we knew. Mike would ask us, 'Hey, seniors, who among your classmates isn't currently playing football but should be?' We thought, 'Oh wow, he's asking interesting questions.' And then he put in his system, and we were all always so impressed with his knowledge of football. It's second to none."
Fast forward 30 years. Grant's teams have won 23 conference championships. Eden Prairie's 14 state playoff appearances and 11 state titles are the most of any football program in Class 6A.
"Mike's got such a great way with kids," said Todd Fultz, who arrived with Grant from Forest Lake and was an assistant on the 1992 team. "He's so good at connecting with each one of them individually, because every kid is different. And he was able to get their trust, gain their trust, and then they followed."
As the rain fell upon Aerie Stadium Friday night, reunited teammates stood in the end zone oblivious to the weather, waiting to be introduced. Their camaraderie was in full display amid hugs, laughter and fond reminiscing.
"Several of us were in each other's weddings," Clark said. "Even though we haven't seen each other, sometimes physically in 20-plus years, the second we see each other, we pick right back up."
After the ceremony, the group stayed to watch Eden Prairie take on Farmington. The 2022 version of Grant's team holds high promise for another run deep into November. Such lofty expectations were not a burden for the Eagles of three decades past.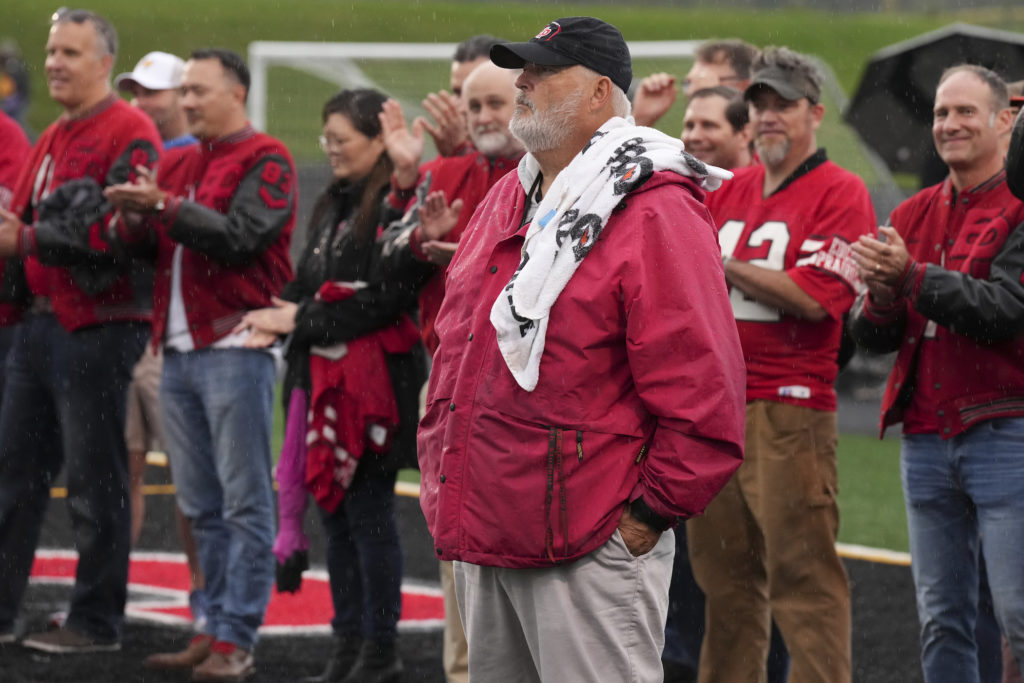 "It seemed like a small town when we were here 30 years ago," said Jason Raaum, a safety and running back on the '92 team who flew in from Seattle for the event. "We had half the number of players that they do now."
The former players came away impressed by the current Eagles' resounding 51-7 win over Farmington. And while there were plenty of gray beards among them, most wore their Eagle jerseys and many still fit perfectly into their "EP" letter jackets.
"In all the state championships they've had, it's just an impressive dynasty," Raaum said. "But Coach Grant calls out that first team all the time. And it was special to us, certainly as players. But to hear it was super special for Coach Grant and the rest of the staff was great to hear as well."
The more things change, the more they stay the same.
"We feel a lot of pride in what Eden Prairie football has become and is today," said Clark. "We still cheer on every Eden Prairie team every season from afar."
Comments
We offer several ways for our readers to provide feedback. Your comments are welcome on our social media posts (Facebook, X, Instagram, Threads, and LinkedIn). We also encourage Letters to the Editor; submission guidelines can be found on our Contact Us page. If you believe this story has an error or you would like to get in touch with the author, please connect with us.