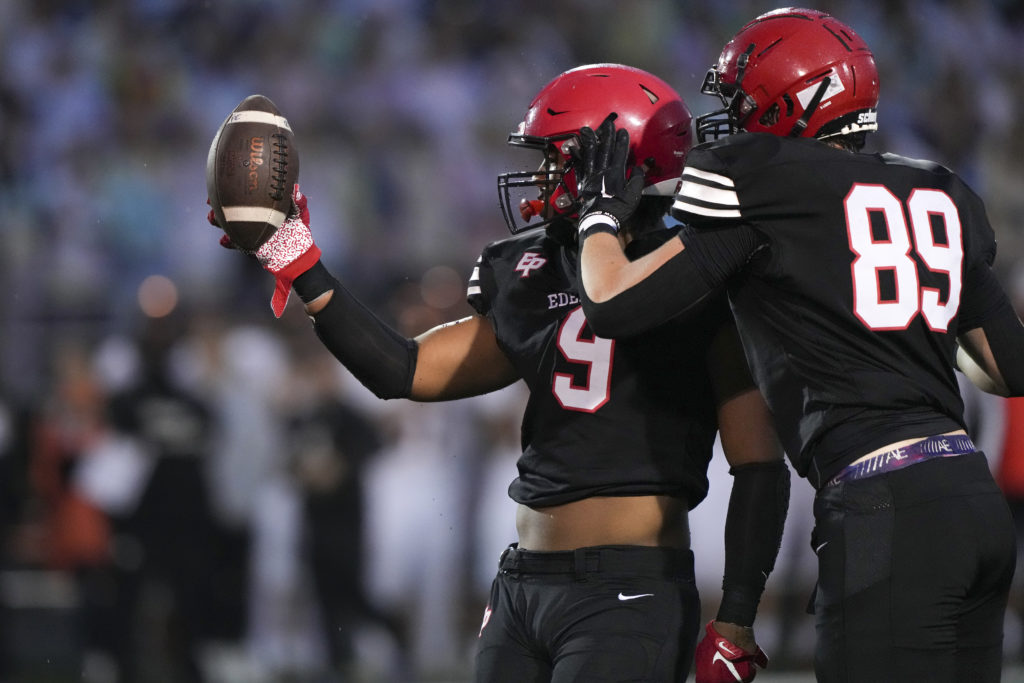 The Eden Prairie football team honored their past and took a glimpse into their future Friday night at Aerie Stadium.
Head Coach Mike Grant's 1992 team was introduced in a ceremony before the Eagles clashed with Farmington. The group was Grant's first team at Eden Prairie, and one that rebounded from back-to-back one-win seasons in 1990 and '91 to reach the regional playoffs the following year in Grant's inaugural campaign.
"That group from '92, they were our first champions and the first of 23 Lake Conference championship teams," Grant said before the game. "It means alot what they did in that first year of turning things around."
Grant's current squad, ranked 2nd in the Star Tribune Metro poll, provided the fireworks for the evening's celebration with a 51-7 dismantling of Farmington.
The Tigers faced not only a formidable challenge against the Eagles' experienced lineup, but adversity as well in the early going, when Farmington sophomore quarterback Jonah Ask was forced out of the game.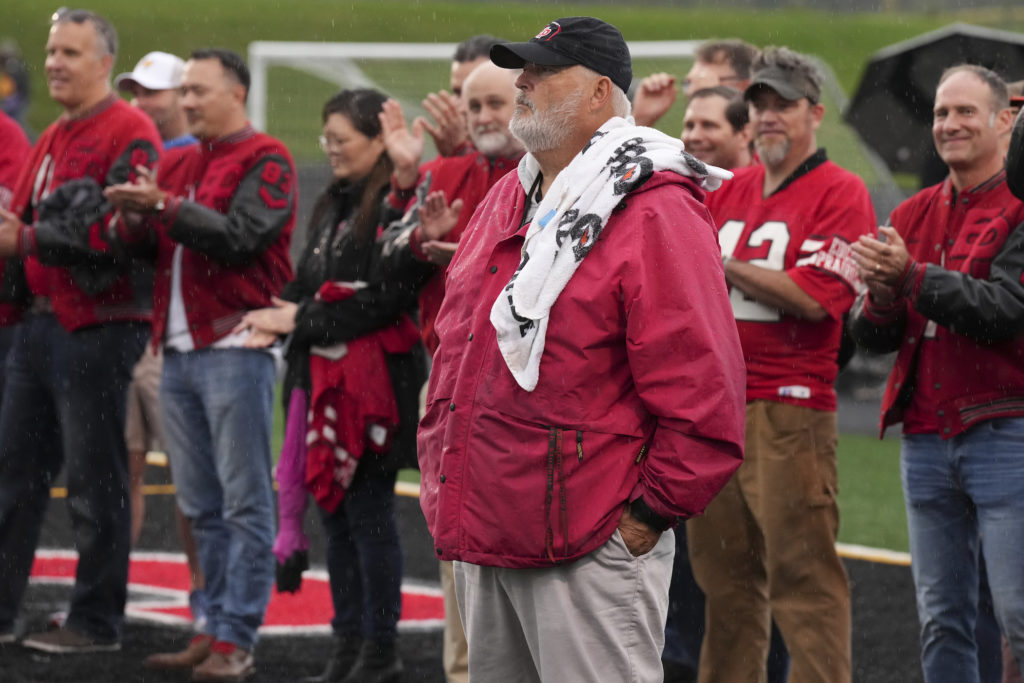 "I feel really bad for the Farmington quarterback. He's a great player. He goes out with an ankle injury," Grant said. "That changed the complexion of everything in the game. But then you got to give our kids credit for playing great."
Eden Prairie's dominance was felt on both sides of the ball. The Eagle defense came away with three first-half turnovers while the offense put up five first-half touchdowns.
But it was special teams that set the tone following the game's first series. After the defense forced a Farmington punt, junior linebacker Shaun Peterson pounced on a fumbled snap to give the Eagles their first possession inside Tiger territory.
Senior running back Tyler Walden led the way on the ensuing offensive series, converting on a 4th and 5 situation at the Farmington 25-yard line. Moments later, Walden ran it in from the three for a 7-0 Eden Prairie lead.
"The offensive line was great," Walden said. "Our center Will Sather, our two senior guards, Joey Zach and Andy Kaiser, are great blockers. Unfortunately, Joey went down tonight, but hopefully we'll get him back next week."
Walden ran for another touchdown with second and goal from the 4-yard line as the Eagles built on their lead to start the second quarter. A 2-point conversion failed, but behind a punishing offensive front, Eden Prairie held a commanding 19-0.
"I would say we're bruisers," said Sather, a senior, when asked about the effectiveness of the offensive line. "We're not necessarily the biggest or the strongest guys, but we all have to compete together and get after it, blow guys off the ball and play physical."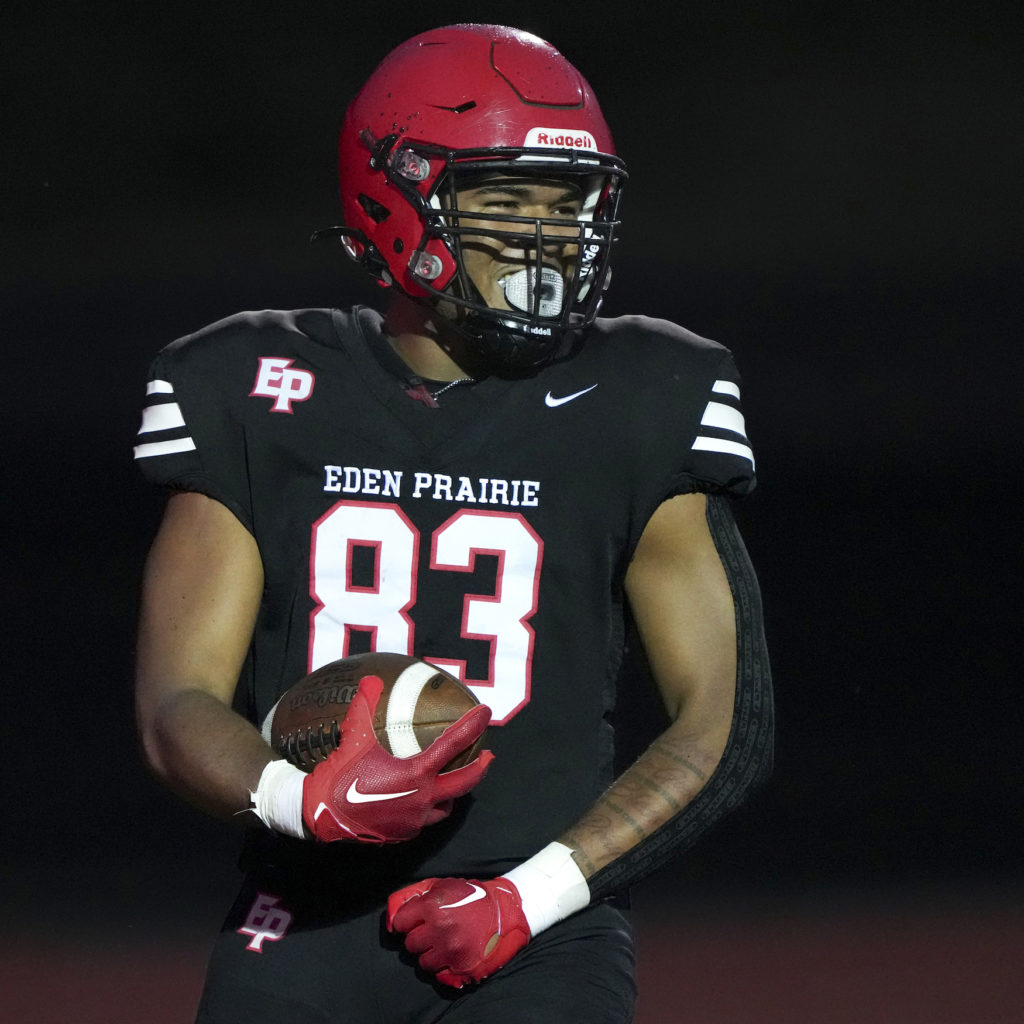 The bruising Eagles up front not only opened holes for Walden, they created time for Nick Fazi. The senior quarterback connected twice with senior tight end Jermell Taylor for two first-half touchdowns.
"I trusted my QB. Me and him go way back," said an exhausted Taylor after the game. "Nick's been there with me since fourth grade. He's like a brother to me."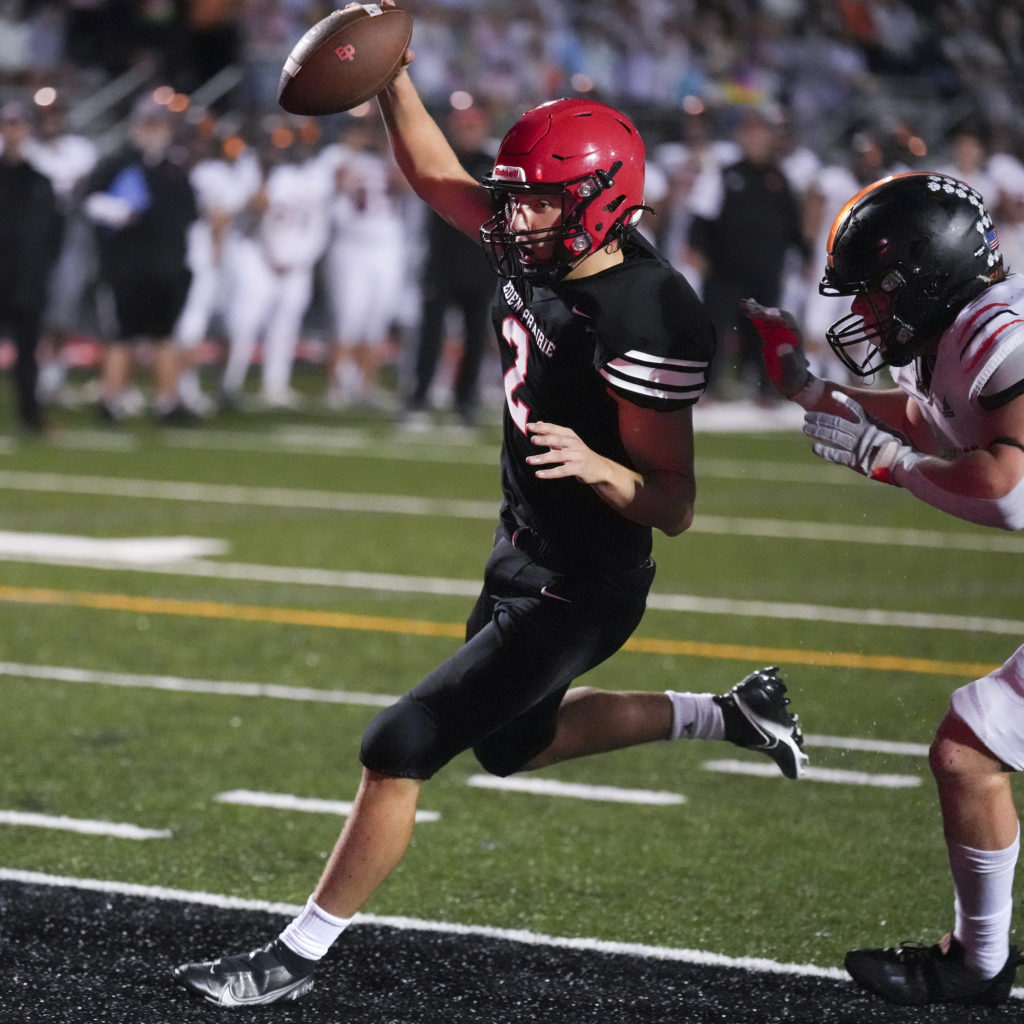 Both scores from Fazi to Taylor came off of turnovers forced by the Eagles' defense. Senior defensive back Cade Hutchison intercepted Farmington backup quarterback Isaiah Bramer to set up the first Fazi-to-Taylor scoring strike from 25 yards out.
"We had a good game, we had a good week of practice," Taylor said. "We focused and then came out here and just balled out."
Late in the second quarter, the defense came through with another takeaway. Senior defensive end Chiddi Obiazor was a one-man wrecking crew, blocking one Farmington pass and moments later stripping the ball away for another turnover.
Obiazor's recovery positioned the offense for more scoring as Fazi threw his second touchdown pass to Taylor. The 26-yard play gave the Eagles a 26-0 lead with 2:27 remaining in the first half.
But the turnover train wasn't ready to pull into the station just yet. Senior Noah Bonin intercepted a Farmington pass for the Eagles' third takeaway of the first half. That set up Fazi's 2-yard run as time expired. The Eagles lead 32-0 at the intermission.
"I think we definitely are starting to find our stride here," Sather said. "Last week (a 34-7 win over East Ridge) was a little rocky but we definitely played better this week."
There was no letting up by the Eagles to start the second half. Eden Prairie received the kickoff and marched down the field in a balanced attack. Fazi connected with Walden and senior wide receiver Michael Gross, setting the table for senior Dominic Heim's touchdown from 7 yards out and a 38-0 lead.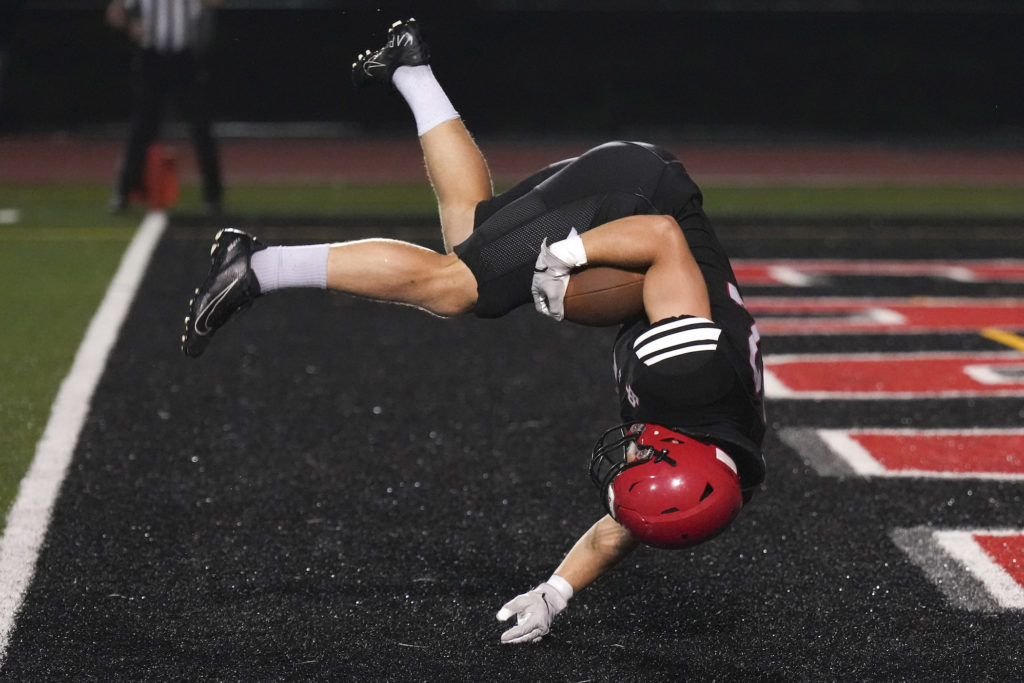 Gross capped off Eden Prairie's next possession with an end-around 30-yard touchdown and a 44-0 Eagles lead with 4:39 remaining in the third quarter.
The resounding advantage following Gross's touchdown provided an opportunity for many on the roster to see game action. Junior running back Hawken Hedlund scored from 15 yards out early in the fourth quarter for a 51-0 lead. Farmington found their only points late in the game, which had been long decided by the near flawless performance by the Eagles.
The overwhelming victory was a fitting tribute to Grant's 1992 team, who came away impressed by the present-day Eagles. Eden Prairie takes their 2-0 record into next week's showdown with top-ranked Lakeville South, who defeated Lakeville North 34-0 Friday.
"We'll watch the film, we definitely have things to work on," said Sather, quickly turning his focus to what may be the season's biggest challenge. "We've got to keep improving for a tough opponent next week."
The state's top two teams battle next Friday night at Aerie Stadium.
Comments
We offer several ways for our readers to provide feedback. Your comments are welcome on our social media posts (Facebook, X, Instagram, Threads, and LinkedIn). We also encourage Letters to the Editor; submission guidelines can be found on our Contact Us page. If you believe this story has an error or you would like to get in touch with the author, please connect with us.