The Eden Prairie Eagles opened the 2022 football campaign by loading up buses at the high school for an hour-long trip to East Ridge in Woodbury on Thursday. But Eagles' head coach Mike Grant is just fine with an odyssey through rush hour traffic, particularly for the first game of the season.
"I like it because we don't have school that day," said Grant, who prefers having one of his team's four regular season road games take place before classes begin.
"Normally, we get out of school at 3:30 and we're loading the bus at 4 p.m. The kids have no time to get anything to eat, so I like playing the first game on the road."
As the final tally would indicate, Grant's players appreciate early-season road trips as much as their coach. The Eagles got off the bus and onto the field, where they raced to an early lead over the Raptors and never looked back, cruising to a 34-7 victory.
En route to their first win, Eden Prairie moved the ball through the air, rather than on the ground, as East Ridge stacked their defenders to stop the Eagles' running game.
"They blitzed a lot, so we had to work through it," said senior quarterback Nick Fazi. "They have a great defense. We knew we could throw the ball on them, which we did."
Fazi connected with his receivers for a pair of first-half touchdowns. His 16-yard strike to senior tight end Jermell Taylor opened the scoring. Before the first quarter ended, Fazi found senior wide receiver Michael Gross from 19 yards out to give the Eagles a 13-0 lead.
"Normally, I like to just run the ball down their throat and never throw a pass and win 21-nothing. But they had a good defensive scheme," said Grant. "(Fazi) threw the ball well, our protection was good. They made it difficult to run but we could throw the ball well against them."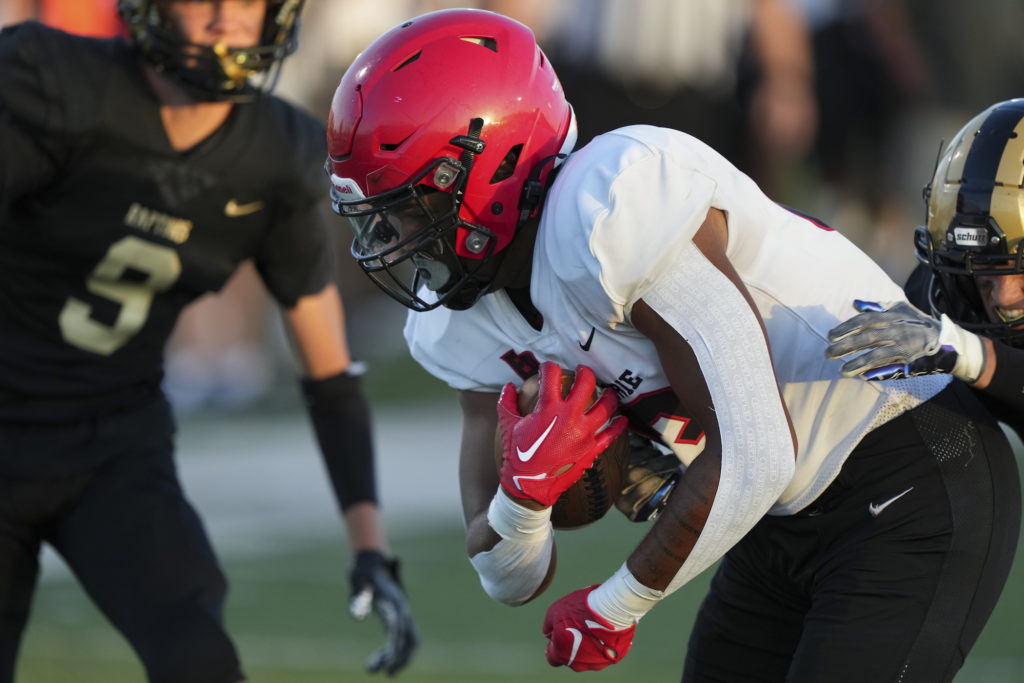 Eden Prairie relied on their ground game to put up points in the second quarter. Senior running back Toby Frost ran in from the 6-yard line, giving the Eagles a 20-0 lead in the second quarter.
"We spread the run out. A lot of guys got the ball," said Fazi. "As the game went on, we played great and put up points. So I'm proud of my guys for that."
The Raptors put up their only points on a 9-yard pass with 1:27 left before halftime, as the Eagles held on to a 13-point lead at the intermission.
"East Ridge is a good team," said Grant. "Our kids played well. The first game you always have some mistakes that you make, but our offense had zero turnovers."
The Eagles' defense held East Ridge to just 72 yards rushing but allowed the Raptors 210 yards passing and 14 first downs.
"In the first half, it was going pretty fast for us," said senior defensive back Devin Jordan. "We were all discombobulated; it was a little chaotic. But in the second half, we were locked in."
The defense held East Ridge scoreless after the break. A critical 4th down stand in the third quarter, deep in Eden Prairie territory, was a pivotal sequence in the game.
"They were driving and that would have made it 20-14, that was a huge stop," said Grant. "Then we got two touchdowns on them to kind of make it look like a blowout. In reality, it was a fairly close game."
The series was a turning point in the game for the Eagles' defense. Jordan attributed a sharpened focus as the key to making the stop.
"We were completely locked in at that point," said Jordan. "We're all doing our job. And I felt like that was one of our best series of the game."
Eden Prairie controlled the ball and the clock to close out the third quarter. Senior running back Tyler Walden capped off a 97-yard drive with an 11-yard touchdown and a 27-7 Eden Prairie lead.
"We had great blocking up front," said Walden. "I saw the hole and I took it."
Walden credited his teammates in the trenches for sustaining the time-consuming drive, as well as making his job just a little easier.
"The offensive line did everything," said Walden with a sly smile. "And they didn't make it too hard on me."
Eden Prairie scored once more late in the 4th quarter to seal the win. An impressive showing in the first game of a formidable lineup of opponents.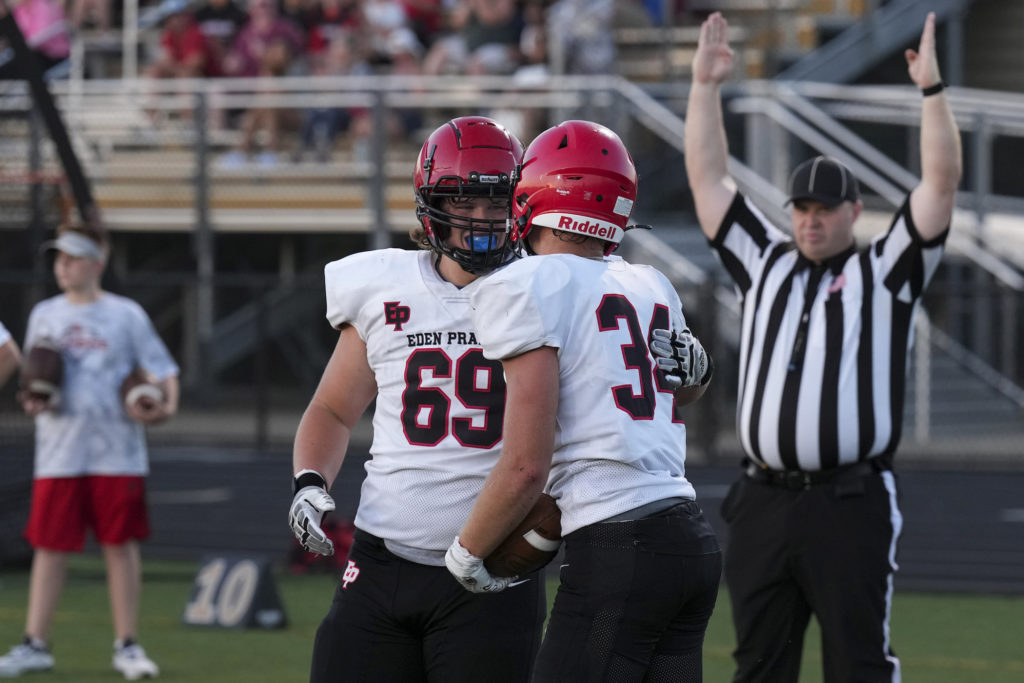 "You don't get any breaks in our schedule, we play really good teams every week," said Grant. "You get a half-hour to celebrate this one and then we've got to beat Farmington on Friday."
At least there will be no long bus rides prior to the next game. Friday's contest will be played at the newly remodeled Aerie Stadium, with Farmington coming off a 28-9 win over Burnsville.
"Farmington is a great team," said Fazi. "We're going to be ready and we're going to go in prepared. This is going to be a fun one."
Editor's Note: EPLN photographer Rick Olson contributed to this story.
Comments
We offer several ways for our readers to provide feedback. Your comments are welcome on our social media posts (Facebook, X, Instagram, Threads, and LinkedIn). We also encourage Letters to the Editor; submission guidelines can be found on our Contact Us page. If you believe this story has an error or you would like to get in touch with the author, please connect with us.