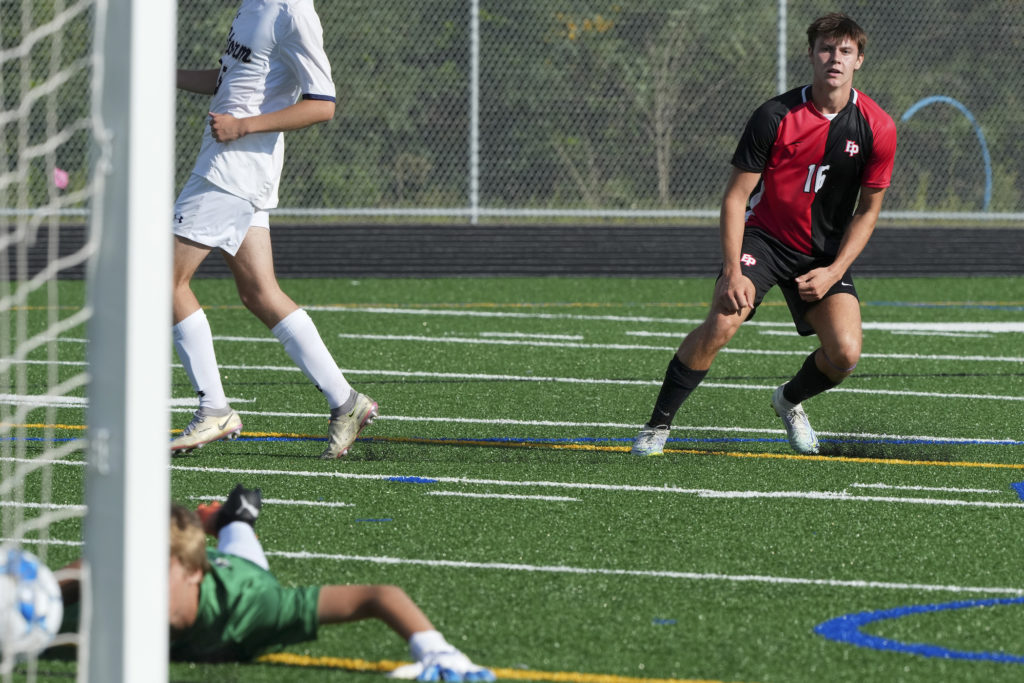 The Eden Prairie boys' soccer team opened their 2022 season at home – and "on the road" – with a 2-2 tie against Chanhassen on Thursday. The game was moved to Central Middle School as improvements are being made to the stadium at the high school, making for an unconventional start to the season.
"We are fortunate to have the facilities we do and we're lucky this is the same size as the varsity field," said co-head coach Rob St. Clair. "This is everyone's first game and we're just excited to get the season started."
And the season started quickly for the Eagles, who jumped out to an early first-half lead. Junior forward Ryan Donohue got his first of two goals as Eden Prairie dominated the offensive zone in the early going.
"The first half I think we were playing through balls really well," Donohue said after the game. "We were getting to the goal really well."
The Eagles continued to apply pressure as Donohue and senior forward Sebastian Bocanegra-Lima found numerous scoring opportunities. Donohue picked up his second goal early in the second half.
"It was a good start. We told the kids 'you're up 2-0, find the third goal,'" said co-head coach Jim Williams. "We had lots of chances but soccer is a cruel game sometimes. The ball wouldn't go in."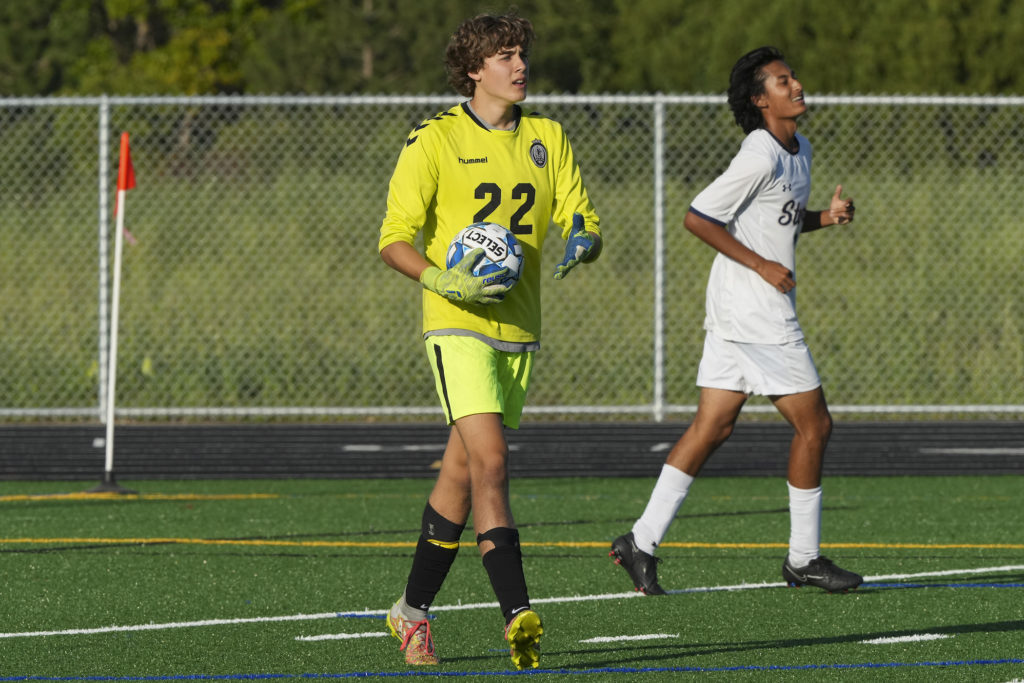 That cruelty began to unfold later in the second half. Chanhassen scored on a penalty kick that got through Eagles' goalkeeper Christian Tapernoux with 8:03 left in regulation. Moments later, the Storm tied the score on a direct kick with 7:14 to play.
"The fortitude that (Chanhassen) showed to come back and tie it up on us, that was pretty good on their part," St. Clair said. "I've got to tip our hat to them, just wish we could have had one of those chances over again."
The contest moved into two five-minute, non-sudden-death overtime periods, with the teams swapping ends of the field between periods. Neither team scored, resulting in the tie along with some disappointment for the Eagles, who held the lead for the first 72 minutes of the game.
"We've told our kids our goal is to play our best soccer come sections," Williams said. "We're disappointed, but hey, adversity is OK. You find out who you are and the sun is going to come up and we move on tomorrow."
The Eagles won't have to wait long to ease their frustrations. They'll face Shakopee on Saturday, back again at their "home away from home" at Central Middle School.
"It's a different setting than Aerie," Donohue said. "Obviously I wish we played there because you get those stands, you get the speakers, but you've still got to play and this is a great field too."
Upcoming games and venues
Saturday's game against Shakopee will be followed by six road games before the Eagles play their first game in the newly remodeled stadium, which will feature new creature comforts for players as well as fans.
"We've added new 1080 HD capability," said athletic director Russ Reetz, "so we're going to provide a much better stream experience. There will be more video to the board than there has been in the past."
New blacktop surfaces at the front of the stadium, redesigned walkways to improve traffic flow and new fencing accompany the new track and enhanced scoreboard.
"The fan experience should be much better coming in and out of the game," beamed Reetz. "The stadium is going to look absolutely beautiful."
The refurbished home of the Eagles will be ready for the football home opener on Sept. 9 against Farmington.
Eagles' senior forward Sebastian Bocanegra-Lima takes control in the first half. Photo by Rick Olson

Eagles' junior forward Ryan Donohue scored in the first half to give EP a 1-0 lead. Photo by Rick Olson

Eagles' co-head coaches Jim Williams (left) and Rob St. Clair. Photo by Rick Olson

The portable scoreboard at Central Middle School reflects the Eagles' second-half lead against Chanhassen. Photo by Rick Olson
Comments
Comments aren't allowed on our site, but we do offer several ways to provide feedback, and have your voice heard. If you believe the story has an error, or would like to get in touch with the author, please contact us. If you would like to respond directly to this article, we welcome and encourage Letters To the Editor. You can find details on how to submit a letter on our contact page.