Morning sun glistened off the calm surface of Bryant Lake on a recent Friday, broken only by the wake of a sleek rowing shell propelled by four female high school seniors.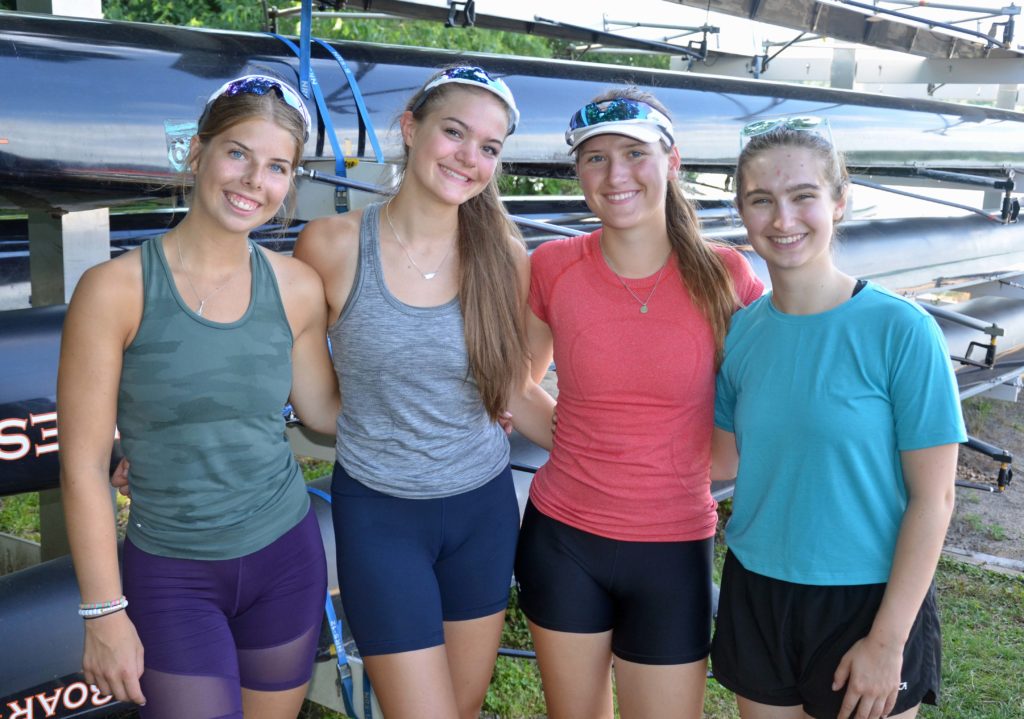 The four young women – Ashleigh Reid, 17, and Claire Koehler, 16 – both of whom attend Eden Prairie High School (EPHS); Adrienne Mongeon, 18, who attends Lakeville South High School; and Elodie Jones, 17, who attends Edina High School – are members of the varsity rowing team at the Twin City Youth Rowing Club (TCYRC) located in Eden Prairie. Coxswain Ella Muilenburg, 17, who also attends EPHS, steered the boat and helped the crew maintain a constant pace during the training run.
On the water, their faces are focused, their eyes on the stroke oar, their bodies gliding back and forth on rolling seats, legs and arms working together to efficiently drive their 44-foot racing shell forward using 12-foot-long sweep oars.
Off the water, they are relaxed and happily talk about their sport, the teamwork and discipline necessary to excel, and the opportunities rowing offers them.
Rowing followed other sports
TCYRC rowers represent three dozen metro high schools. Each of those rowing on this day wound up there in different ways.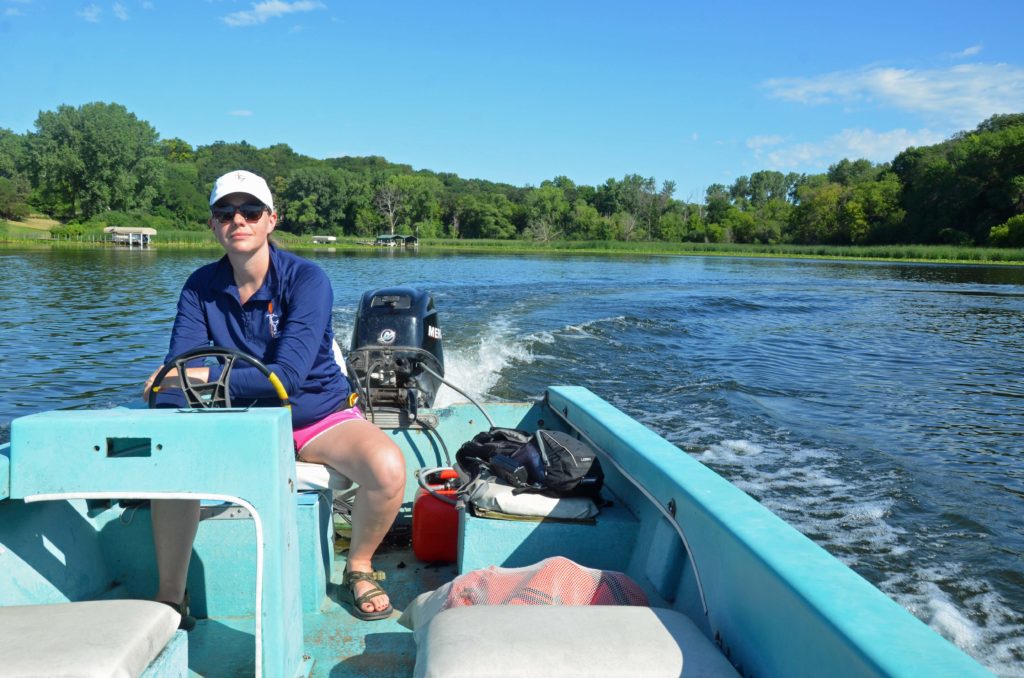 Claire and Ashleigh joined TCYRC together during the summer after 6th grade.
"I played volleyball, but I quit during COVID," Claire said. "Our moms learned about (the rowing club)." They started out going to camps in the summer and then rowed during the season, she said.
Both Ashleigh and Ella had been dancers. Ella also competed in slalom alpine skiing. She found out about rowing through friends.
Elodie had competed in swimming, but she found herself burning out. Her mom, who competed in rowing in college, suggested she try the sport.
"I swam and rowed my first summer (2020), but I quit swimming to row full time," she said.
Adrienne, who is a competitive weightlifter, began rowing in the fall of 2021.
"Weightlifting helps in rowing, but not vice-versa," she said. "But I've learned a lot about transferring my energy from rowing into lifting, as well."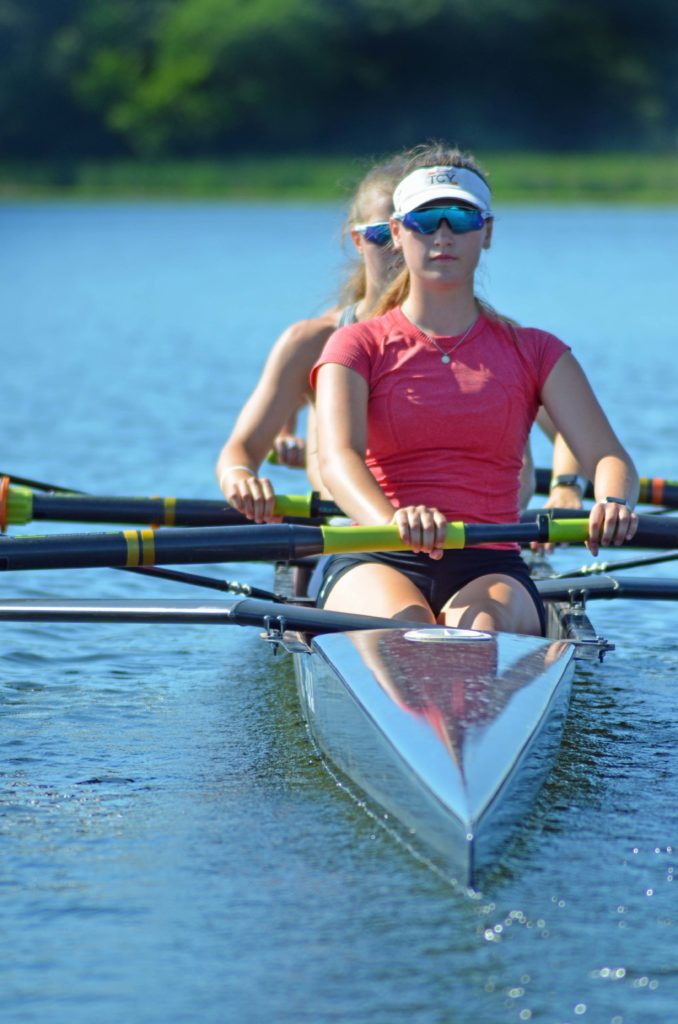 Even though Ella doesn't row, she works out with the rest of the team. She has taken on the important role as the team's coxswain.
The coxswain is known as the "brain" of the boat. She not only steers the boat, but manages the technical side of practices, and executes strategy on race day.
In the four-plus cox, Ella sits down low in the bow of the boat facing in the direction the boat is moving. A radio system helps her communicate with the rowers, who face the stern of the boat. Other fours and most eights have the coxswain in the stern of the shell, facing the rower known as the "stroke," who sets the boat's pace.
However they are situated, coxswains play an integral role in any boat's success.
"I really like the mental aspect of (being a coxswain)," she said. "There's more of a game to it than you think.
Every crew and every boat is different. You have to figure out how they work together."
Racing with friends
Rowing practice starts at 6:45 a.m. most days with running and stretching before heading out on the water for two hours.
So, why do they do it?
"In the end, it's the friendships I've made, as well as racing," Elodie said. "Racing with these people is an unmatched high. I've had a really hard time this summer with some of my workouts. But when we have races, it reminds me why I do it and why I wake up at 6 a.m. to come here for three hours a day."
Rowers learn a lot about discipline and teamwork, they all agreed.
"I really love how supportive the team is and how you get to work together as one and everybody is motivating each other," Ashleigh said.
They also all agreed that the TCYRC coaches are great to work with.
"The coaches get to know us well, so they are always supportive and helpful," Claire said.
And they can help those interested in getting college scholarships.
Rowing for scholarships
TCYRC alumni have gone on to attend 60 colleges, nearly half as collegiate rowers at schools such as Dartmouth, Georgetown, Harvard and MIT, according to club president Scott Loehrer.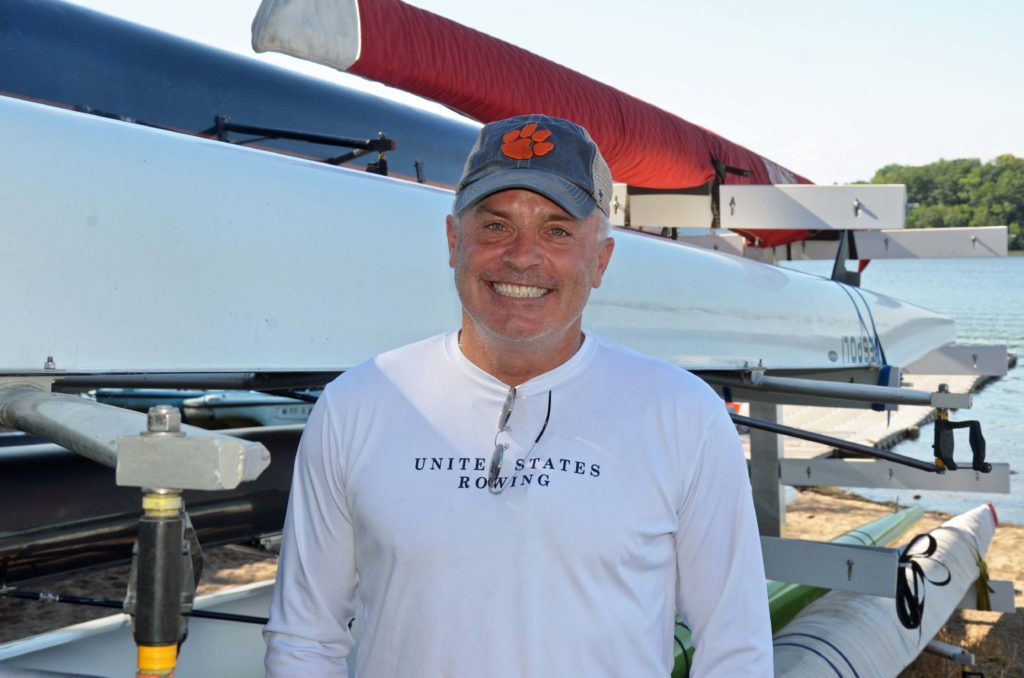 Many of them earned rowing scholarships, including Loehrer's daughter, Ellie, who attended and rowed at Clemson University. In fact, she is the reason Loehrer is part of TCYRC – he never rowed until his daughter got him involved.
Thanks to Title IX, women have a lot of opportunities for scholarships, according to girls' varsity coach Sadie Adderley. "There are a lot of Division I, II and III colleges actively recruiting women rowers," she said.
Currently, the club has 26 girls' varsity rowers and 20 novice girl rowers. Boys' numbers are smaller, with 10 varsity rowers and six novice boys.
Rowing college scholarships are harder to come by for boys, Adderley said.
She works with Aaron Schnell, the new boys' varsity coach, who is hoping to increase the number of boys participating this fall.
Justin Richardson is the club's program director and head coach and works with Adderley and the girls' varsity. TCYRC coaches are all U.S. Rowing certified and trained in first aid and boat and water safety.
15 years in EP
Bryant Lake is nestled in the triangle created by I-494 on the west, Highway 62 on the north, Valley View Road on the south and Highway 212 on the east. At a length of about a mile (approximately 1,600 meters) of open water and 178 acres in total area, it is a relatively small lake.
Indoor space located in Eden Prairie allows for winter storage of the club's 16 boats, all of them manufactured by Vespoli out of New Haven, CT, using "unidirectional carbon fiber and honeycomb" layers.

The TCYRC "barge" used to safely introduce new rowers to the sport.

A sweep oar blade feathered across the water prepared to begin a new stroke.

In sweep rowing, one oar is manipulated by both hands. The legs are the primary source of power in rowing.

The girls varsity boat docking after practice.

Rowers carried their racing shell back on shore after a workout.

Crew members carrying their boat ashore.

Boats are stored on racks on the Bryant Lake shoreline.

Rowing blades drying on shore.
For rowing, it works well because it is straight. And while it is a bit short for the 2,000-meter courses usually used for four- and eight rowing races, it is a good body of water for learning how to row and for practices because it is a relatively quiet lake for motor boats – especially in the early morning hours, Lehrer said.
The Three Rivers Park District allows the club to store some of its equipment in its rental building, as well as racks of boats near the shoreline during the summer.
As its name suggests, TCYRC focuses on youth rowers. It also sticks to fours and eights – in which each rower has a single oar (known as sweeps) each, and has no single- or double-scull shells – those in which rowers have two oars each.
TCYRC was founded in 2008 by a group of experienced rowing coaches, rowers and parents. The non-profit club is financed through rowing fees, but also relies on donations from parents and benefactors, according to Lehrer. Many of the club's rowing shells were donated by the parents of rowing alumni, he said.
TCYRC's summer headquarters is adjacent to the public swimming beach on Bryant Lake Regional Park, which is operated by the Three Rivers Park District. The club has indoor space in Eden Prairie that includes Concept 2 rowing ergometers to allow for rowing workouts and competition year-round.
The club hosts rowing camps for new rowers and teaches many of them on a craft known as the "barge." The barge is a wide platform boat that has four outriggers mounted on either side to safely teach eight new rowers without concerns for tipping over.
Programs are available for middle- and high school-age rowers. The middle school non-competitive program is for 11-13-year-olds, and summer camps are offered for new rowers, ages 12-18.
A high school competitive prep program is for 14- to 18-year-olds and is held in August.
For more information about TCYRC and how to register for its program, visit tcyrc.org.
Comments
We offer several ways for our readers to provide feedback. Your comments are welcome on our social media posts (Facebook, X, Instagram, Threads, and LinkedIn). We also encourage Letters to the Editor; submission guidelines can be found on our Contact Us page. If you believe this story has an error or you would like to get in touch with the author, please connect with us.