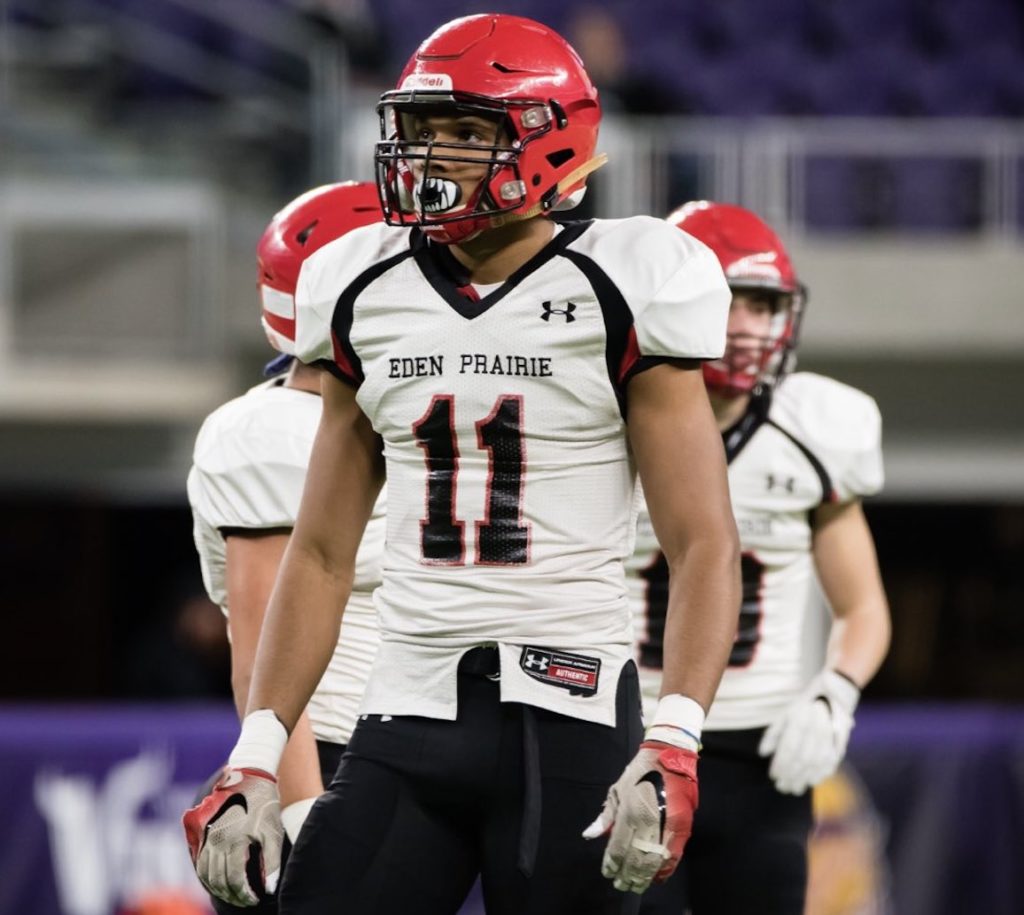 There are no shortcuts when you take the road less traveled.
Jermaine Johnson II starred on the Eden Prairie High School football field in 2017. As a senior, he was a Minnesota All-Star. Since, his football career has had stops in Kansas, Georgia and Florida.
On Thursday, April 29, the New York Jets selected the talented edge rusher in the first round (26th overall pick) of this year's NFL draft.
How did this all happen?
After Eden Prairie, Johnson took his game to Independence Community College in Independence, Kansas. He didn't know it at the time, but the school he picked would be featured on the Netflix series "Last Chance U."
For Johnson, Independence Community College wasn't so much a last chance but a chance.
"Some kids go to community college, and you never hear from them again," said Eden Prairie High School football coach Mike Grant. "Jermaine went away and became a good student and a great leader."
Johnson excelled on the field, so much so that he earned an offer from the University of Georgia. As a Bulldog, he played on one of the best college defenses in the country. The experience was good, but not good enough.
Johnson had eyes on the NFL. Making the Georgia defensive-line rotation would look good on a resume, but maybe not as good as being an every-down lineman.
"He wanted more playing time," explained Grant.
Johnson transferred again, this time from Georgia to Florida State.
At Florida State, he counted 70 tackles (17.5 for a loss) and 11.5 sacks.
The kid who bet on himself just cashed in.
"That's on Jermaine," said Grant. "He had the drive and he did the work."
Question: Did Grant predict as much?
"He wasn't 6-6 and 250 pounds in high school," laughs Grant. "He was 6-5 and maybe 210. He was naturally strong, but he was thin. Now, he looks the part and plays the part."
Numbers
Johnson left Independence Community College as PrepStar Magazine's No. 2 rated Junior College prospect nationally.
Rivals.com pegged Johnson as its No. 3 rated player.
In 20 games at Independence, Johnson recorded 96 tackles (19 for a loss), 12.5 sacks, four forced fumbles and four fumble recoveries.
At Georgia, he counted 36 tackles and seven sacks.
At Florida State, while betting on himself, he doubled those numbers.
On April 29, the New York Jets traded back into the first round to pick Johnson at No. 26.
ESPN draft expert Todd McShay called the pick the most valuable of New York's three first-round selections because he had Johnson at No. 14 on his draft board. The Jets selected Cincinnati corner Ahmad Gardner at No 4 and Ohio State receiver Garrett Wilson at No. 10.
For Johnson, getting to New York and the NFL wasn't easy, nor was it a non-stop flight. From Eden Prairie, he headed south and west to Kansas, south and east to Georgia, south to Florida and then north to New York.
That's not a road less traveled. That's a road rarely traveled.