Walking out of Aerie Stadium on a chilly October evening in 2003, tears slowly began to flow down my face as my mom accompanied me out and on our way home.
As we drifted closer to home and away from the stadium, the roar of the visiting Lakeville crowd grew. The Panthers were about to defeat the highly-ranked Eden Prairie football team and end its 59-game Lake Conference winning streak. It was the first time I, a big Eagles football fan, had ever seen that team lose a game.
With my tears getting bigger, my mom stopped me. Her words were simple: "It's OK. Most people's high school football teams lose games."
From a young age, I learned about the high standard of athletics at EPHS. Whether it was growing up in the shadow of the school and seeing great athletes in every sport to seeing it firsthand as a student and alum, I got to see it all.
Now, I get to see it from a different perspective. On March 1, I officially took over as the first-ever EP Local News sports editor and social media editor. I am beyond excited to take on this role and help grow this community-driven news organization that is helping keep the local community informed.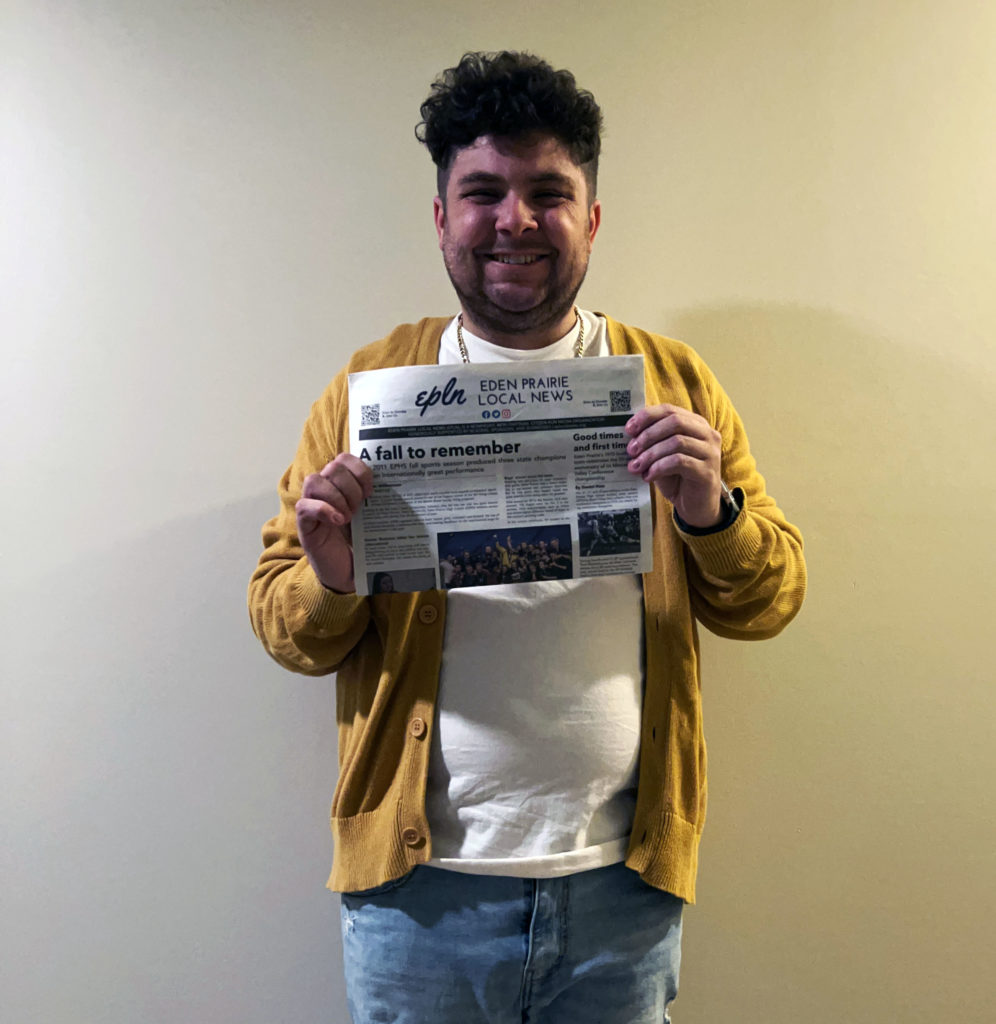 My family's history dates back to the mid-1970s when my paternal grandparents made their way to Eden Prairie from the Cincinnati area. They lived in what was the "new neighborhood" in town near Purgatory Creek and Pax Christi Catholic Church.
My own parents ended up moving to Eden Prairie in the late 1980s near EPHS and have remained ever since.
Growing up in this town and so close to the high school, Friday night football games were a cherished tradition. There was a buzz around the school each night with hundreds of people pouring into Aerie Stadium.
As a young fan, I got to see some of the state's brightest stars shine in EPHS uniforms. Whether it was Willie Mobley in football, Ryan Wittman in basketball among others. With how porous the Minnesota men's pro and college teams have been in my lifetime, watching the successful Eagle squads provided a much-needed escape for this sports fan.
Going into high school, I tried being one of those players. But my quest of being a big-time athlete was stopped short like many before me. However, thanks to the Eyrie newspaper, I got to be up close and personal to many big EPHS sports events.
I saw Nick Leddy lead the Eagles to their first state boys' hockey title in 2009. There was the dominance of Taylor Uhl on the pitch in 2010 when the girls' soccer team won. That winter, Kyle Rau scored to finish off one of the most epic state boys' hockey games ever in 2011.
Then, there was the epic month of November 2011. As a senior, I saw and captured via photo three state championships — boys' soccer, volleyball and football. It was an incredible three weeks for a high school student to be on the sidelines and witness.
After graduating in 2012, I moved on to the University of Missouri where I spent four years studying print/digital sports journalism while enjoying life at a school that had joined the SEC. It was a much different vibe than growing up going to Gopher football games at a half-full Metrodome.
I graduated with my degree in 2016. After a nine-month internship at USA Hockey in Colorado where I wrote for the organization's website and magazine, I moved back to Eden Prairie and have been here ever since.
Since my return in 2017, I have spent most of my time as a freelance sports writer here in the Twin Cities. I've written many articles, mostly for the Star Tribune's online high school coverage. I've also spent the last three years at Bally Sports North (formerly FOX Sports North) as a production assistant working on the network's pre and postgame shows for the Wild, Wolves and Twins.
In the midst of all that, I have dealt with the COVID-19 pandemic like the rest of you. And like many EP residents, I woke up to the horrible news in 2020 that the Eden Prairie News was shutting down. I had a helpless feeling. As someone who is passionate about journalism, not having an outlet to cover one of the state's largest school districts and big-time suburbs was mesmerizing to me.
Sitting at home as most did during 2020, thoughts started rumbling in my head about starting a news site for the city of Eden Prairie. Thankfully, others who knew more about the life of a non-profit were already working their magic. Thus came Eden Prairie Local News.
I eventually jumped on board with this venture in the fall of 2020. Since then, I have assisted with the sports coverage and EPLN's social media presence as one of the younger members of the editorial group.
As of March 1, my official title became social media editor and sports editor. I am beyond thrilled to take over this role.
Taking over this job, I'm hoping to make our sports coverage the best it can be. As a part-time employee, this is not my entire work life. However, I think with my work and the help of others, we can do the best we can to cover all things sports in Eden Prairie.
Besides that, I'm hoping we can cover everything equally. This city has a wealth of athletics to cover, and I am hoping to hit as much as we can.
Finally, I want transparency. I am happy to chat with anyone about our sports coverage and would love your help. Whether it's submitting photos, scores, story ideas or grabbing a coffee and discussing your thoughts on EP sports. I am here to do it.
With that, my email is now open: rwilliamson29@gmail.com. Let's chat and work together to get this sports section running its best. Also, let's connect on social media. My personal account on Twitter is @rwilliamson29 and @ryanwilliamson29 on Instagram. Please also follow EP Local News on Twitter and Instagram along with #EPLNSports to keep up with the sports scene here in our town.
That's all from me for now. Talk again soon!
Comments
Comments aren't allowed on our site, but we do offer several ways to provide feedback, and have your voice heard. If you believe the story has an error, or would like to get in touch with the author, please contact us. If you would like to respond directly to this article, we welcome and encourage Letters To the Editor. You can find details on how to submit a letter on our contact page.