Lee Smith remembers driving through Eden Prairie with his dad and grandpa back in the 1980s.
What does he remember about that drive?
"It was gorgeous," said Smith. "I wanted to be in the cities, but Eden Prairie looked like home."
Home was Willmar, Minn., and 1980s Eden Prairie looked a lot like Willmar.
Thirty-three years ago, Smith, then a recent Mankato State University graduate, accepted a teaching job with Eden Prairie Schools. Twenty-nine years ago, he signed on as head coach of the Eden Prairie High School boys hockey team.
Smith knew he'd retire from teaching at the beginning of the 2021-22 school year. He'll step away as Eden Prairie's head hockey coach at the end of the season. He said so just last week.
Smith's Eagles won three state championships in 29 years (2009, 2011 and 2021). His teams played in six state title games and made 13 state-tournament appearances.
If you do the math, Smith's teams averaged winning a state championship once every 10 years, played in a state championship game once every five years and qualified for the state tournament once every three years.
And oh yeah, his Eagles won some 540 games.
One foot home, one foot …
Smith's retirement is linked to his wife's out-of-state promotion.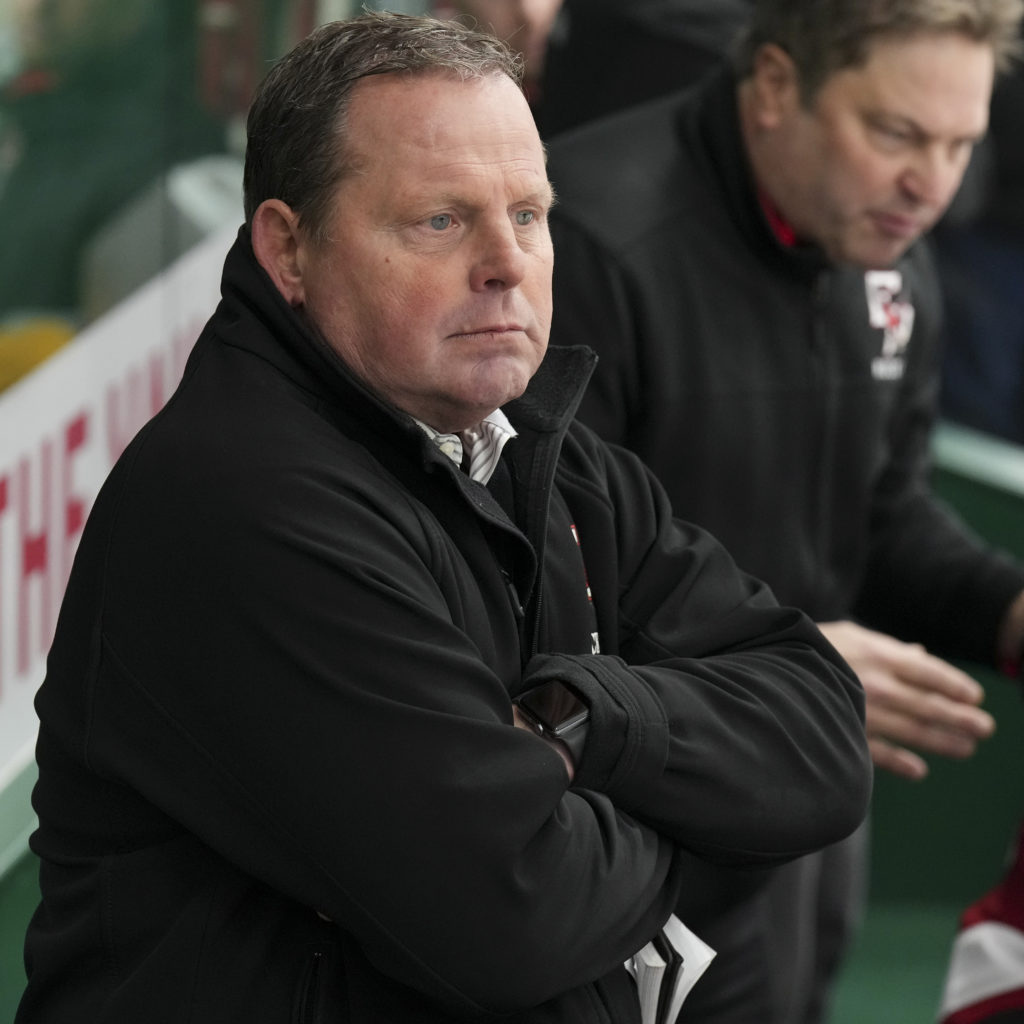 "She'll be working in Salt Lake City Monday through Thursday," said Smith. "They'll pay for her to commute, but come July, that commute will be on our dime.
"Teaching," he adds, "doesn't me give the flexibility to go back and forth."
Coaching?
"I feel like it's the right time for me to leave," he said. "I'm leaving the program with a good team and a good schedule."
And?
"As the head coach, you work 365 days per year," said Smith.
And no, that doesn't leave time for traveling.
The Smiths aren't ready to move full-time to Salt Lake City, nor are they ready to sell their Eden Prairie home.
Steady build
During Smith's first year as head coach, his Eagles got off to a 2-7 start. They'd finish 11-13, counting an overtime loss to Wayzata in the section quarterfinals.
"That's my only losing year," said Smith.
The very next season, Eden Prairie fell to Edina in the section championship game.
They'd lose two more section-final games before making the state tournament for the first time in 1999.
Note: Eden Prairie's 1998 section-finals loss was a six-overtime heartbreaker to Edina.
"At the time," recalls Smith, "it was the longest high school game in Minnesota history. I'm not sure, but it might have been the longest game in the country."
Smith's takeaway was that Eden Prairie needed a deeper team and a deeper bench.
A year later, Eden Prairie made state.
And?
They'd lose to Holy Angels in the opening round.
"We learned how vital that first game is," said Smith. "If you lose, you play that next morning, and no one watches."
Eden Prairie went on to lose three state championship games. In 2016, Eden Prairie fell 5-3 to Wayzata. In 2019, Eden Prairie fell 3-2 in overtime to Edina. In 2020, Eden Prairie lost 4-1 to Hill Murray.
Best loss?
"The game I'm most proud of," said Smith, "was the 2019 loss to Edina. During the regular season, they beat us by a combined score of 22-4."
In 2009, Eden Prairie's Nick Leddy captained Eden Prairie's first state championship team.
"That one was special," said Smith. "We beat Hill-Murray, the defending state champion; Blaine, a team that beat us earlier in the season and Moorhead, another team who had beat us earlier in the season."
Two years later, Eden Prairie won its second state championship, beating Duluth East 3-2 in triple overtime. Kyle Rau, Eden Prairie's all-time leading scorer with 108 goals and 108 assists, scored the game-winner while sliding across the ice on his belly. Said goal is considered one of the most iconic goals in state-tournament history.
In 2021, Eden Prairie won its third state championship, beating Lakeville South 2-1 in double overtime.
"When you think about it, it's pretty neat to see what we've all accomplished," said Smith. "I've been so fortunate, fortunate to teach and coach with so many great people and fortunate to get to work with so many kids who grew up dreaming about being Eagles."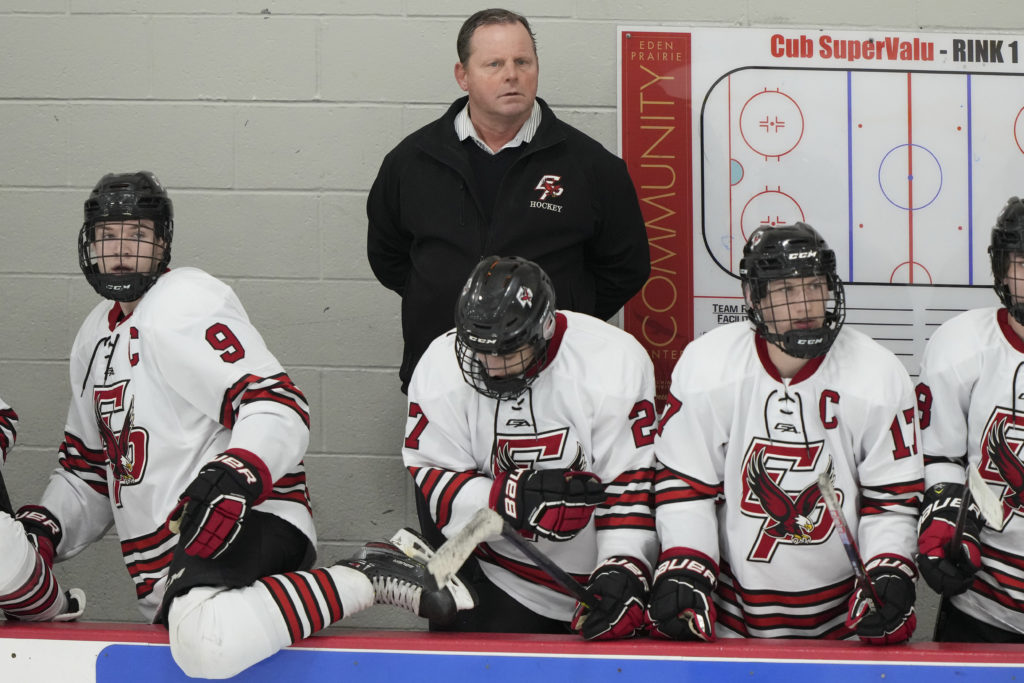 Comments
We offer several ways for our readers to provide feedback. Your comments are welcome on our social media posts (Facebook, X, Instagram, Threads, and LinkedIn). We also encourage Letters to the Editor; submission guidelines can be found on our Contact Us page. If you believe this story has an error or you would like to get in touch with the author, please connect with us.