Two days after what would have been his 40th birthday, Mike Elhard's family, friends and some strangers, too, honored him on Saturday, Nov. 20, with a run around Purgatory Creek Park.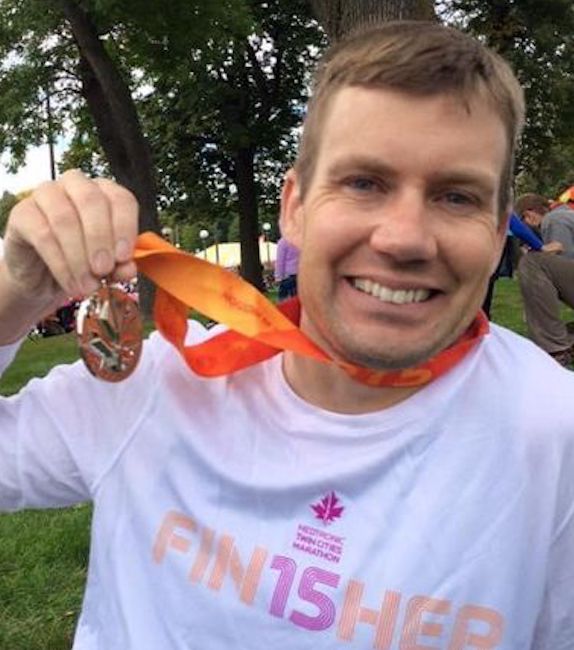 The crisp fall morning was warmed considerably by a bright sun and fond memories of Elhard's love of his family, passion for running and sense of humor.
About 200 participants in the Mike Elhard Memorial Run huddled at the park pavilion, most bundled in his favorite color blue, to "Run for Mike."
That phrase decorated the front of the royal blue event shirts. On the back was the bib number 91321, the date of Elhard's last run.
Elhard, 39, of Eden Prairie, died unexpectedly on that run. He left his house the morning of Sept. 13 as part of his training for the Oct. 10 Chicago Marathon. Elhard never returned; he was found the next day, about a mile from his home.
"He was a great guy and a great friend," said neighbor Ben Breidall. "I think it would be nice to do this every year to remember him."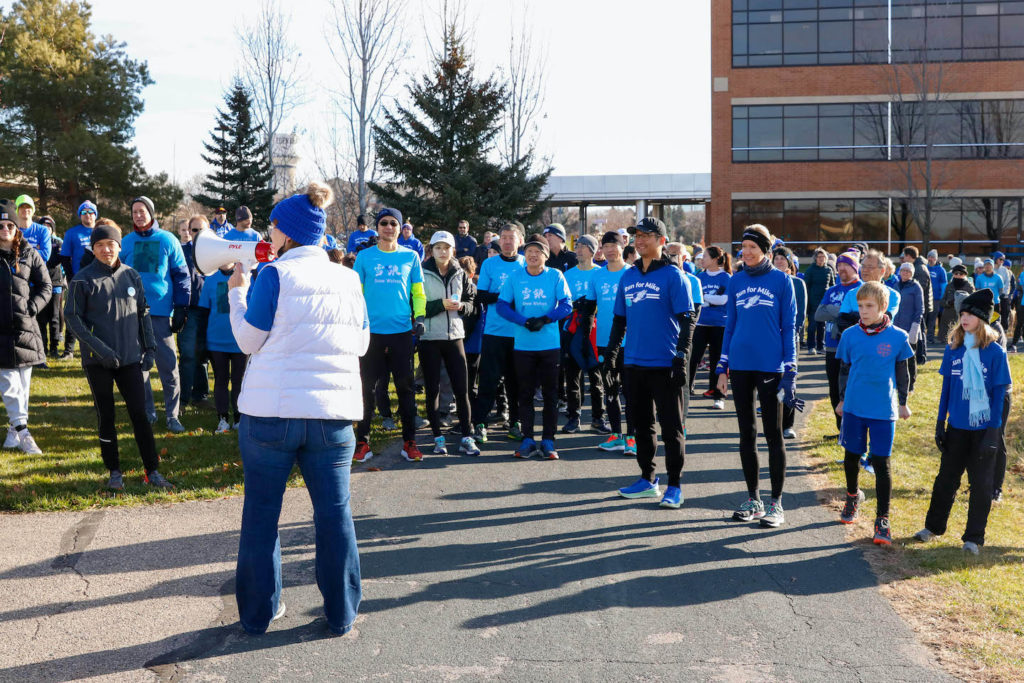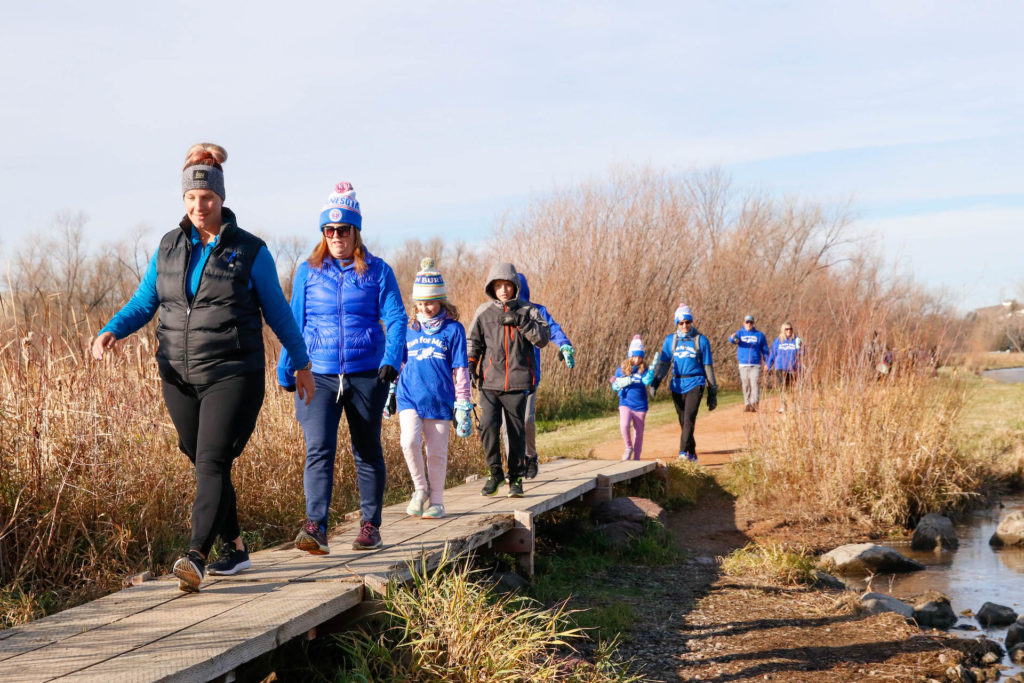 Megan Cegla, a family friend and former neighbor, organized the event to remember Elhard and raise money for his wife Kristi and their two sons, Owen, 11, and Ethan, 8.
"(It) was very successful," said Cegla, who now lives in Mound. "Friends and family were able to gather and remember Mike while celebrating his 40th birthday. We couldn't have asked for a better day weather-wise. We felt Mike's presence."
Before the run began, Cegla stood near the starting line, etched on the ground in blue chalk, and addressed the participants. Some brought dogs, others children in strollers. Multiple paths (1 mile, 2.2 miles and 3.1 miles) in the park made the run (or walk for some) family-friendly.
"We're going to pay tribute to him by running," Cegla said. "We know he loved it. And we know you love Kristi and the boys."
After the participants, including Owen, paraded off onto the route, Kristi remained with Ethan at her side.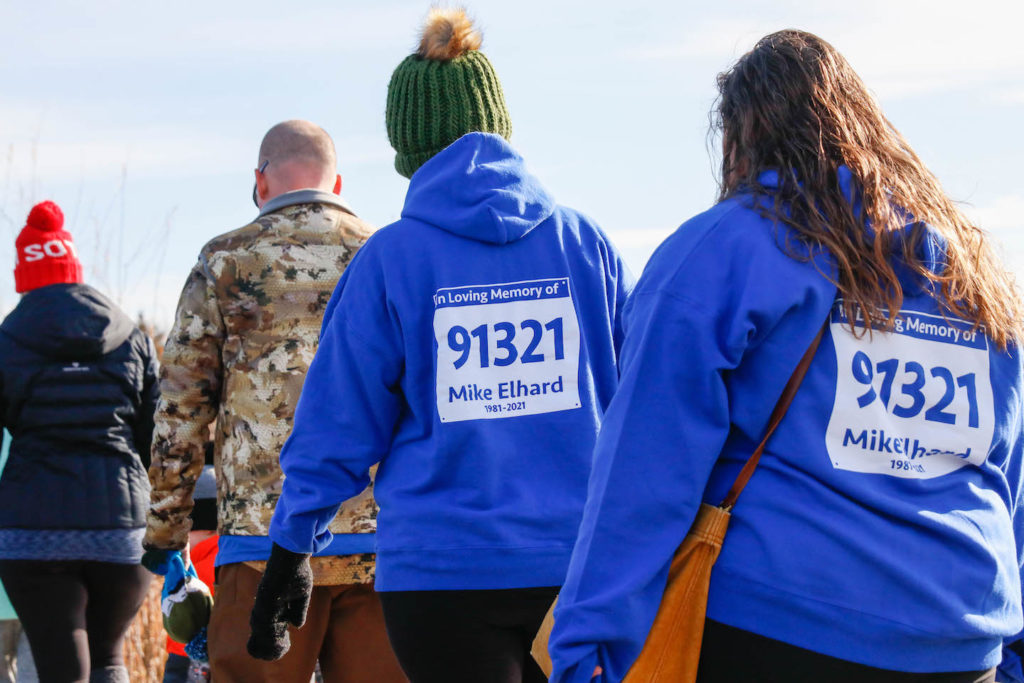 "I'm so grateful," Kristi said of the community's support.
In the two months since her husband's passing, Kristi said she and her sons are taking life one day at a time.
"We're plugging away, aren't we, buddy?" Kristi said to Ethan. "We miss Dad, don't we?"
"Yes," Ethan said softly.
"We sure do," she added.
Support from the running community
Not all who ran Saturday morning knew Elhard or his family. Some were fellow runners who felt a kinship with him.
Elhard completed several races over the years, including the Medtronic Twin Cities Marathon, Monster Dash 10 mile and the Lake Minnetonka Half Marathon.
About 20 members of the Eden Prairie-based Snow Wolves Running Club were there. Though Elhard was not a member, Cegla said the club has been supportive of the Elhard family. Members held a candlelight vigil for Elhart on Sept. 14, the day he was found.
"Everyone in the running community seems to be touched by Mike's story," Cegla said. "I have a hockey player, so I can picture my hockey family. I don't have a running family. So, they kind of asked for (the event). We only lost him two months ago. But to throw this together (so quickly)—we're blessed with this beautiful day and for everyone to get together."
A Christmas Vacation tradition
Elhard's humor was on display Saturday in the form of signs emblazoned with posts from his Facebook page flanking the Purgatory Creek Park Lambert Pavilion.
Each sign offered a different quote from his favorite holiday movie, National Lampoon's Christmas Vacation.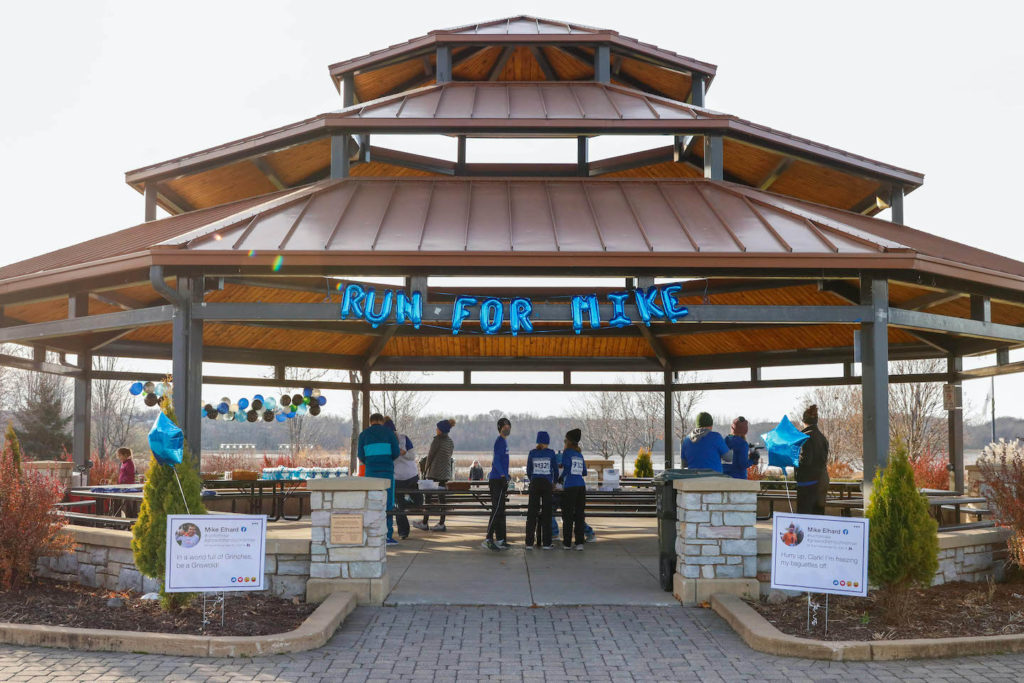 One sign has a photo of Elhard in a Griswold Family Christmas shirt accompanied by a Cousin Eddie quote: "Clark, that's the gift that keeps on giving the whole year." (In case you don't remember, Cousin Eddie was referring to the Jelly of the Month Club.)
"He would post a quote from the movie every day, from the day after Thanksgiving until Christmas," Kristi said.
The family's GoFundMe page points out that Elhard was "pseudo famous" for this annual tradition.
"He was a funny guy," Cegla said of Elhard. "He would be posting this if he were here."
Proceeds from the run go to the Mike Elhard Memorial at SPIRE Credit Union. (Mail donations to SPIRE c/o Mike Elhard Memorial 8577 Columbine Road, Eden Prairie, Minn. 55344.)
A portion of the proceeds from the event shirt sales go directly to Kristi, Owen and Ethan, Cegla said. People can still buy Run for Mike shirts and sweatshirts through Dec. 1.
For more, visit the Run for Mike Elhard Facebook page.
Editor's Note: Unless otherwise noted, photojournalist Gillian Holte took most of the photos for this story at the Nov. 20 event. Holte was born and raised in Eden Prairie before graduating from Iowa State University's Greenlee School of Journalism in 2019. She is currently an editor and producer at the CW Twin Cities.
Members of the Eden Prairie-based Snow Wolves Running Club participated in the run. Slideshow photos by Gillian Holte

Runners were encouraged to wear blue or the "Run for Mike" apparel.

Runners could participate in person or on their own. The two women on the far right are Cinda Muser of California and her daughter Jennifer Anderson of Eden Prairie.

Megan Cegla of Mound organized the event and spoke before the run.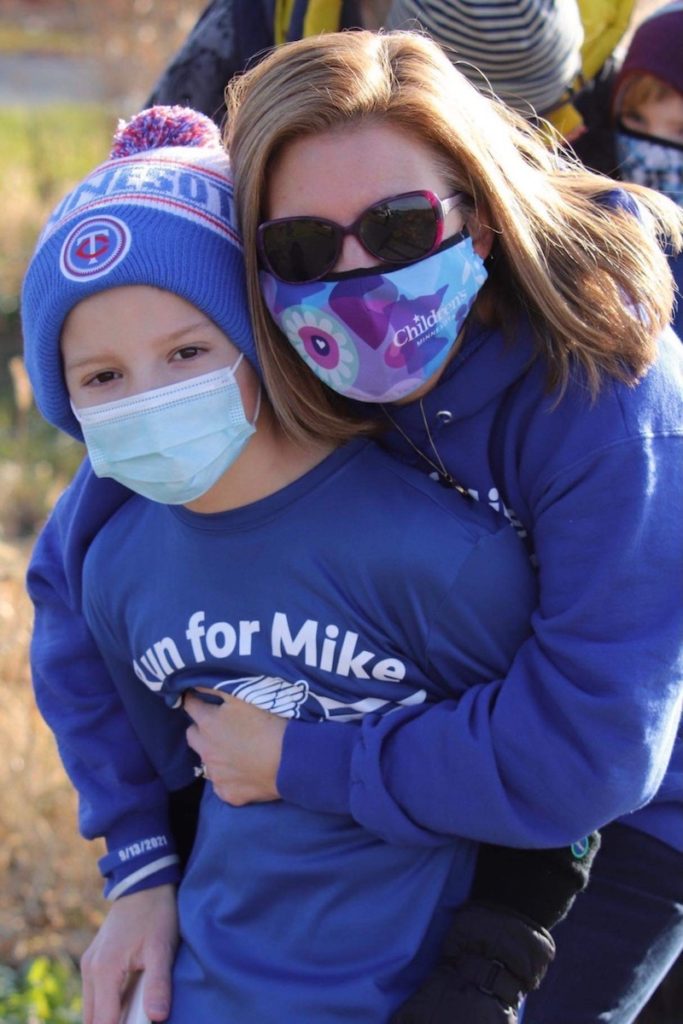 Comments
We offer several ways for our readers to provide feedback. Your comments are welcome on our social media posts (Facebook, X, Instagram, Threads, and LinkedIn). We also encourage Letters to the Editor; submission guidelines can be found on our Contact Us page. If you believe this story has an error or you would like to get in touch with the author, please connect with us.