For just about every volleyball team across the state, the idea of making the 2021 state volleyball tournament has been top of mind since practice started in the middle of August.
But for the Eden Prairie volleyball team, the dream of playing on the biggest stage dates back to the 2020 season, a shortened one that did not have state or section tournaments.
The Eagles have accomplished that goal of making that state tournament. It's the first time the school has made the tournament since 2014. Their latest run for a state title kicks off on Nov. 10 against Forest Lake in the quarterfinals.
EP's run for state dates back to the end of August, when the season kicked off with a four-set win against Waconia on Aug. 26. The Eagles went on to finish the regular season with a 17-6 record and a 5-1 Lake Conference record. That conference record was good enough to finish in second place behind unbeaten Wayzata.
Over the course of the regular season, EP faced a schedule loaded with strong competition. The Eagles have faced eight of the 32 teams that qualified for this year's state tournament. That includes four of the eight teams — Wayzata, Lakeville North, East Ridge and Bloomington Jefferson — competing against the Eagles in Class 4A. 
"If you don't play great teams, it's hard to be ready for sections," said EP coach Chad Becker. "We know we're battle-tested."
Becker credits a lot of his team's success to the play of junior setter Cameron Berger.
"She knows how to balance our offense out," Becker said. "She can deliver the ball to any place on the court. Our opponents have a tough time knowing where they're going with the ball."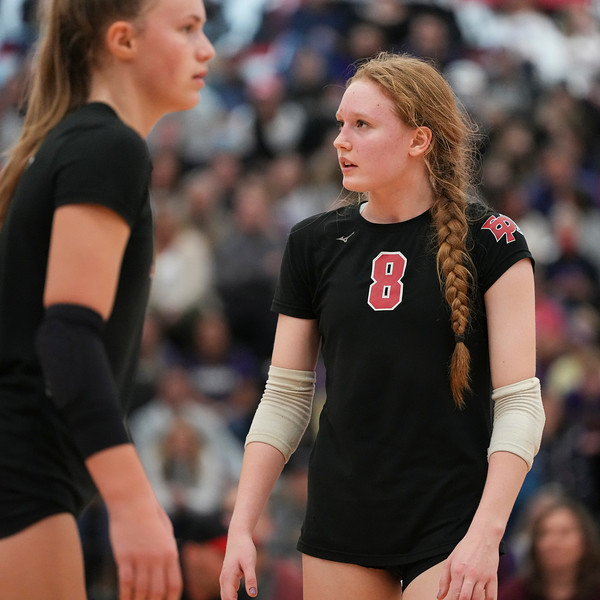 Berger has a multitude of players to set to, whether it's senior outside hitter Paige O'Connell or senior Kendall Minta. Becker expressed confidence in his entire group.
"We have a lot of kids who can put the ball away," Becker said. "They're a special group that believe in each other. They have all of the right intangibles. They're just a really tight-knit group."
This group of Eagles had a tough test in front of them with the Section 2AAAA tournament. EP ranked No. 3 in the final Class 4A coaches' regular-season poll and was among four teams ranked in the top 10. That included No. 4 Chaska, No. 5 Shakopee and No. 10 Prior Lake.
Despite the tough competition, the Eagles made quick work as they did not lose a set in either section win against Minnetonka and Chaska.
"We knew what our section was and the depth and the strength of other teams," Becker said. "That should help kind of propel us.
"We've played tough teams. We're ready for this moment."
That moment includes the quarterfinal tilt with Forest Lake. Though the two teams have not met in more than a decade, Becker said his team is comfortable making changes during a match.
"We'll make adjustments as we feel necessary," Becker said. "Adjusting during matches has been a strength for us all season."
All of this will happen under the roof of the Xcel Energy Center. Though the downtown St. Paul venue is more known for its role as the home of the Minnesota Wild and various concerts, it's been the home of the state volleyball tournament since its opening in 2000.
"It's just the feeling of being in a pro stadium and locker rooms where professional teams get ready, and rock stars get dressed up in," Becker said. "The Xcel Center is a tremendous facility to play in. Just to soak up the atmosphere from all over the arena is great."
Comments
We offer several ways for our readers to provide feedback. Your comments are welcome on our social media posts (Facebook, X, Instagram, Threads, and LinkedIn). We also encourage Letters to the Editor; submission guidelines can be found on our Contact Us page. If you believe this story has an error or you would like to get in touch with the author, please connect with us.