Based on the final Class 4A coaches' poll of the season, it appeared likely that if Eden Prairie could emerge as the Section 2-4A champion, the Eagles would be one of the top five seeds in the Class 4A state tournament.
On Sunday, Nov. 7, when the coaches met to determine the seeds, that became a reality. The Eagles earned the No. 2 seed and will play Forest Lake at 3 p.m. Wednesday, Nov. 10 at Xcel Energy Center.
The practice of seeding the top five teams in MSHSL big-school state tournaments is a given for nearly all sports. Each of the eight coaches rank the top five seeds. Those rankings decide the seeding for the tournament. After the five seeds are awarded, the three teams remaining are randomly paired up against the top three seeds.
Wayzata picked up the top seed in the tournament, which was hardly a shock given the Trojans are a perfect 31-0 this season and have not lost a match since October 2019.
EP (19-6) earned the second seed, which would've likely gone to perennial power Eagan. However, the Wildcats were upset in their section final by East Ridge. The Raptors' win pushed the Eagles into the No. 2 seed while the Raptors grabbed the No. 3 seed.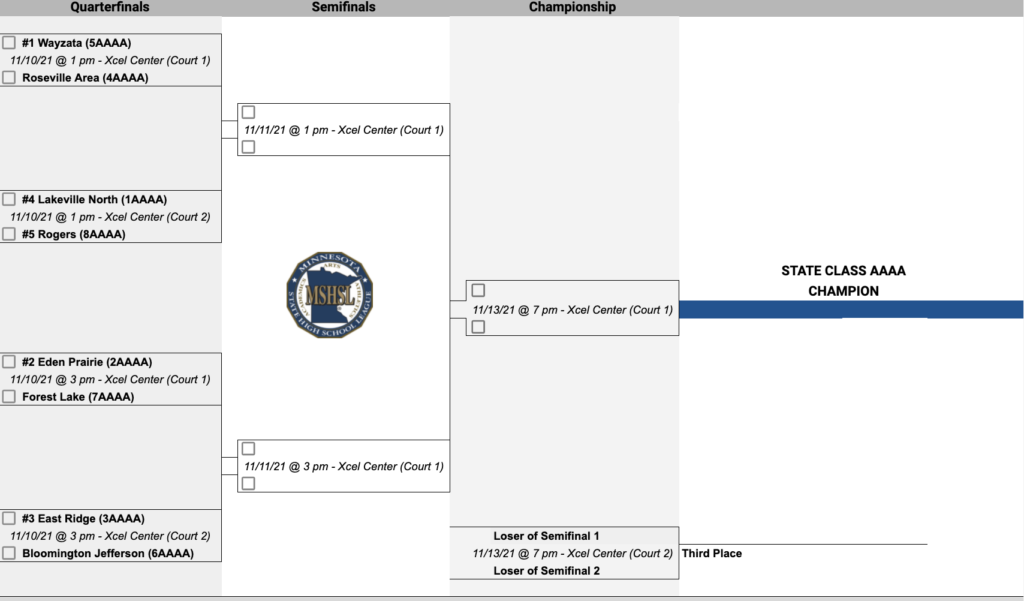 After the random draw, it was determined EP would face Forest Lake in the quarterfinals of the Class 4A state tournament. This is the first season that the state volleyball tournament is made up of four classes. Up until last season, there were just three classes.
This is the first time these two teams have met this season. The Eagles were considered the top team in Section 2AAAA and just behind Wayzata in the Lake Conference race.
Forest Lake holds a 21-10 record heading into the matchup. The Rangers finished second in the Suburban East Conference behind East Ridge and earned the No. 2 seed in the Section 7-4A tournament. The Rangers made it through section play without losing a set. That included a sweep of top-seeded Blaine in the section final.
After Forest Lake made its volleyball state tournament debut in 2002, the Rangers have most recently made appearances in 2017 and 2018. Meanwhile, the Eagles are making their first appearance since 2014 and sixth overall. EP won the state championship in 2011 and were the runner up in 2012.
The Class 4A state tournament takes place over three days. If the Eagles defeat Forest Lake, they will move on to the semifinals against the winner of East Ridge and Bloomington Jefferson. That match takes place at 3 p.m. Thursday, Nov. 11. All matches are at the Xcel Energy Center. The Class 4A final is set to take place at 7 p.m. Saturday, Nov. 13.