For the EP girls' volleyball team, losing at home is not something that happens often. Especially this season.
Heading into Thursday's Section 2AAAA final against Chaska, the Eagles had not dropped a match at home. They kept it that way, defeating the Hawks in three sets—26-24, 25-19, 25-23—to capture the section championship and advance to next week's Class 4A state tournament.
The volleyball team will often play its regular season matches in EPHS' auxiliary gym. But with the stage of a section final, the Eagles relocated to the main gym. And they needed the space. Both fanbases packed the inside of the gym.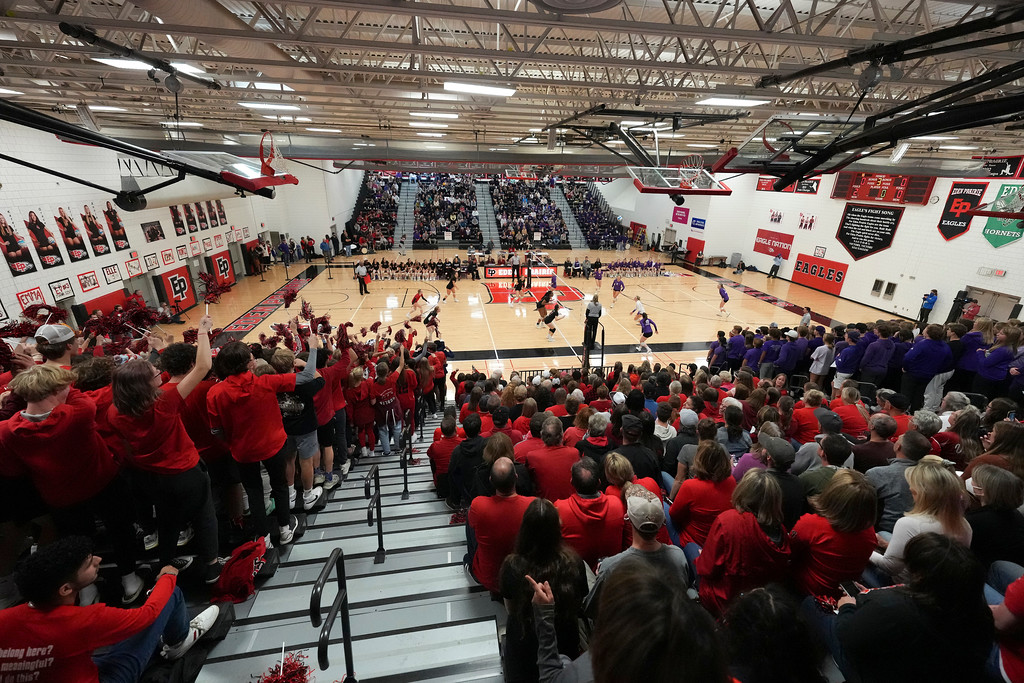 With both fanbases making their presence heard, both teams rode ups and downs early. Nerves appeared evident with service errors and players messing up routine plays.
Eventually, the two teams settled in and went back and forth for most of the match. That was hardly surprising given the two teams finished the regular season in the top four of the Class 4A coaches' poll and were the top two seeds in the section tournament.
Once Eden Prairie found its groove, the Eagles' hitters shined. That included EP middle blocker Kendall Minta and outside hitter Paige O'Connell. Minta did her damage in the middle with kills while O'Connell was more on the sides.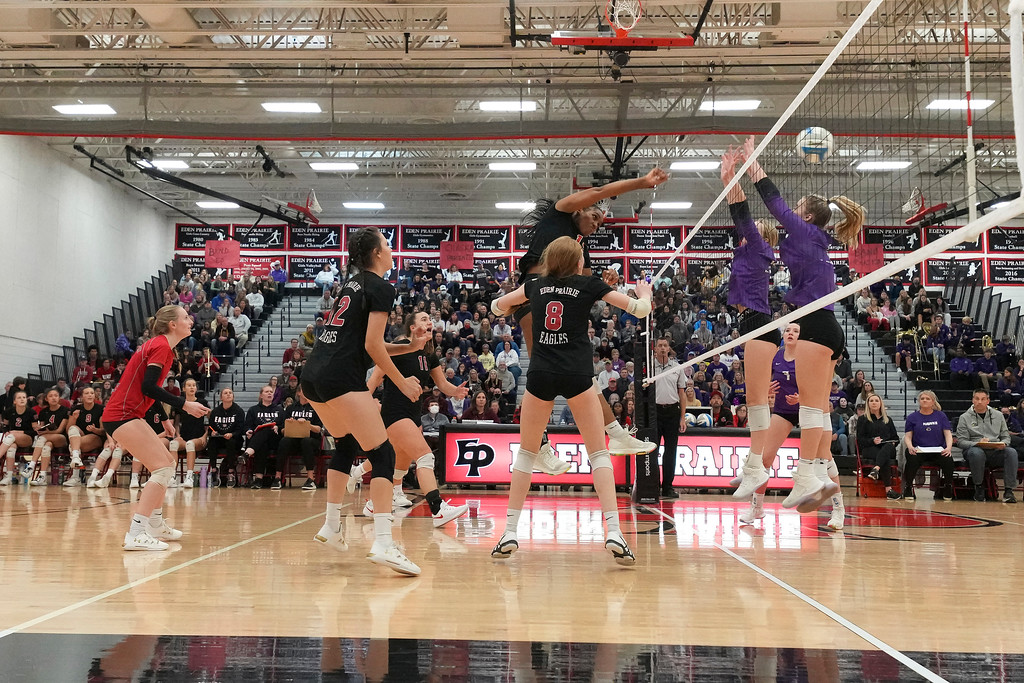 O'Connell's presence in the game was a pleasant surprise for the Eagles. The senior captain played through an ankle sprain she suffered in practice on Tuesday.
While Minta and O'Connell blasted the ball over the net, they were countered by Chaska's Mallory Heyer. The future Minnesota Gopher basketball player showed her hops on the floor with some high-flying kills to keep the Hawks neck and neck with the Eagles.
In the first set, EP broke through with a late run to take it 26-24. Then, the Eagles hit their stride in the second set with a commanding 25-19 win.
Chaska did respond as the Hawks had their proverbial backs against the wall. The Eagles found themselves down by as many as five points in the third set. EP slowly clawed its way back, taking its first lead of the set when the Eagles scored to make it 21-20.
Leading 24-23, EP tallied the all-important 25th point when Minta's serve forced a Chaska error. The clinching point sent the gym into a raucous.
The win means EP advances to the state tournament for the first time since 2014. The Eagles will not know what seed they have or who they will play until this weekend when the coaches meet to seed the teams. Quarterfinal play begins on Wednesday, Nov. 10, followed by the semifinals on Thursday, Nov. 11, and the Class 4A championship match happening on Saturday, Nov. 13.