During the second half of the 2020-21 school year, the Eden Prairie High School (EPHS) athletics department was not only dealing with the effects of the coronavirus pandemic but also with a new leader.
In January, longtime athletics director and current football coach Mike Grant left his post leading the activities at EPHS but stayed in his role with the football team. His departure meant the school was looking for an athletic director for the first time in nearly 20 years.
After a search, the school eventually landed on Russ Reetz, who was Prior Lake's athletics director at the time. Reetz was brought into Eden Prairie as associate principal of student activities and now leads one of the state's largest athletics departments.
Reetz is now nine months into his new role with the school and is in his first full school year taking over for Grant. Eden Prairie Local News recently caught up with Reetz to discuss the department and how things have gone for him thus far.
EPLN: What has this experience been like taking over the athletics department?
Reetz: It's been a lot to learn. We have more programs than any other high school in Minnesota. I'm getting to know the less common programs like colorguard, winterguard and ping pong. I would say it's a lot of learning a new system and meeting new people. I've really enjoyed it.
EPLN: What made you want to take this job?
Reetz: I really wanted to work with a more diverse student population. I wanted to grow in different areas of administration. I have more roles as associate principal with building operations, academics and more. Really, it was just a new student demographic, a larger support staff, and the reputation of Eden Prairie.
EPLN: How is this department different from the one you were at previously (Prior Lake)?
Reetz: I think the size and scope of our programming. There's the need to communicate more. I've had to really force myself to be more organized. A lot of jobs I've worked in the past, you react to what's happening. We're very proactive and think three to four weeks ahead and communicate well. We want everyone having equal access and figuring out what's the best way to get information to our students and parents. We want to get boosters involved. It's a lot more involved here with the size and scope of the department.
EPLN: What are some things you've done at previous stops that you'd like to bring here?
Reetz: I had a lot of experience in technology. I've been a tech integrationist, working on educational technology. I've brought a lot of skills here, and it shows up with different things like with video board, streaming, using Google Drive, the online ticketing system and website. That's served me very well. When you have strong technical systems in place, you can spend more time on relationships and working well with students. We've done leadership training with captains, more with the student section and being more organized with the student council. Those are the kind of things I kind of brought with me from previous stops and enhance what we're doing here.
EPLN: What has it been like to take over for a guy like Mike Grant while also still working with him?
Reetz: It's really been great, and it's because Mike still thinks like an AD. I've never had a coach who thinks like an AD thinks. He thinks about academic progress, attendance, behavior in school and communication with me with what's happening, even officials and transportation. He thinks like I do. He's been great to lean on and work with. He's around quite a bit. He has history that the rest of us don't have. I've leaned on him quite a bit for context, how it has always been done in the past and what we can do to improve it. He's been really good to work with.
EPLN: How has the experience been impacted by COVID?
Reetz: There were two things that made this uber challenging: coming in the middle of the year. There was no buildup to the start of something where you get yourself acquainted with the system. I came in, and it was full speed ahead right away. The majority of my time dealt with contact tracing, screening, rescheduling. It was maybe the most difficult task in my administrative career. Now, having the summer to get systems in place and find where my time can best be spent, I'm more on stable ground. It's not as much of COVID work, but it still lingers in the background. I'm still thinking about how we can mitigate COVID both in our stands and in our field. Life is feeling more back to normal, more so since February.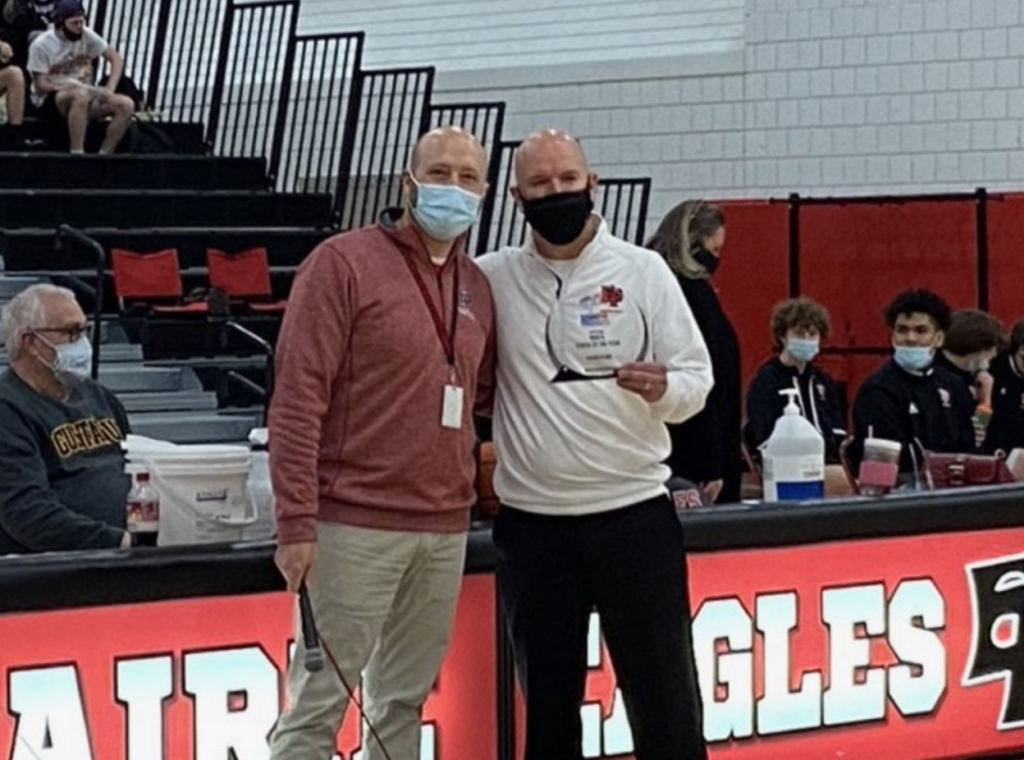 EPLN: What are some of the goals you have for the department?
Reetz: I feel very strongly that this experience in this school belongs to the student audience. Every day we find ways for kids to get involved and feel connected to the school. For our staff, a goal of ours is 85 percent participation in any program. It could be a fine arts program or an independent provider. We're trying to find ways for students to feel a sense of belonging here. That's my number one goal. We're trying to improve communication, be transparent in decisions and make it easier for the community to buy a ticket, see a game. We look for things we can do better. Really, it's in an effort to make everybody feel a sense of pride in EPHS. (It) could be grandma or grandpa, a community member who doesn't have a kid here. We want a positive experience. We lost a lot during the pandemic, so we're charged with putting the pieces back together. We can start new traditions. That's pretty neat to be the AD for bringing students back in the building and creating a new experience.
Comments
We offer several ways for our readers to provide feedback. Your comments are welcome on our social media posts (Facebook, X, Instagram, Threads, and LinkedIn). We also encourage Letters to the Editor; submission guidelines can be found on our Contact Us page. If you believe this story has an error or you would like to get in touch with the author, please connect with us.