The undefeated Eden Prairie High School football team drew a first-round bye to open the abbreviated Class 6A postseason tournament (the 10-week football season ends November 28, meaning there isn't enough time or games to crown a state champion).
In total, four teams open tournament play without a first-round opponent — Stillwater, East Ridge, Eden Prairie and Farmington.
"We have a bye due to Covid," said Eden Prairie coach Mike Grant. "Three teams dropped out."
In a healthy world, Eden Prairie would be playing on Tuesday, the start of the tournament.
"It's a game we'd like to be playing," said Grant. "We'd be expected to win and would probably only play our starters for a quarter or so, but other kids would get an opportunity to play in a varsity game."
Had this been a state championship year, Grant may have welcomed the bye.
"We're at the end of playing six physical games," he said. "We have some nagging injuries, sore ankles and sore elbows."
And?
"We'll have five days to prepare for Prior Lake," added Grant, of a likely second-round opponent. "They'll have three days to prepare for us."
Eden Prairie plays the winner of Prior Lake vs. Roseville on Saturday, November 21.
Championship year?
Question: Is Eden Prairie disappointed that it won't be challenging for a state championship?
"There are probably four or five teams that really wish they had a chance at a state championship," said Grant. "Almost everyone else got their seasons and now has the potential to play a couple more games.
"It is what it is," he added.
When talk turned to his own team, Grant said his players are well aware of the environment they're playing in.
"They're fully aware of what's going on with Covid," said the coach. "We talk about every day."
At the end of September, Minnesota was reporting 1,000 new cases per day.
On Saturday, the state counted a record 8,703 new cases.
"To think," added Grant, "I was worried when the number went over 700."
For the record, the Eden Prairie coach had preferred a spring season.
"The guys have a chance to finish strong and go 8-0," said Grant. "Not only are they a special group, but they've been so thankful that they've had a chance to play."
Playoffs
While the postseason doesn't officially start until Tuesday, Eden Prairie unofficially opened its playoff run last Wednesday.
"On Wednesday, we played a team that's a No. 1 seed," said Grant. "We're not going to get to do that the rest of way."
On Wednesday, No. 2-ranked Eden Prairie rallied from 14-10 halftime deficit to beat No. 3-ranked Saint Michael – Albertville 24-14.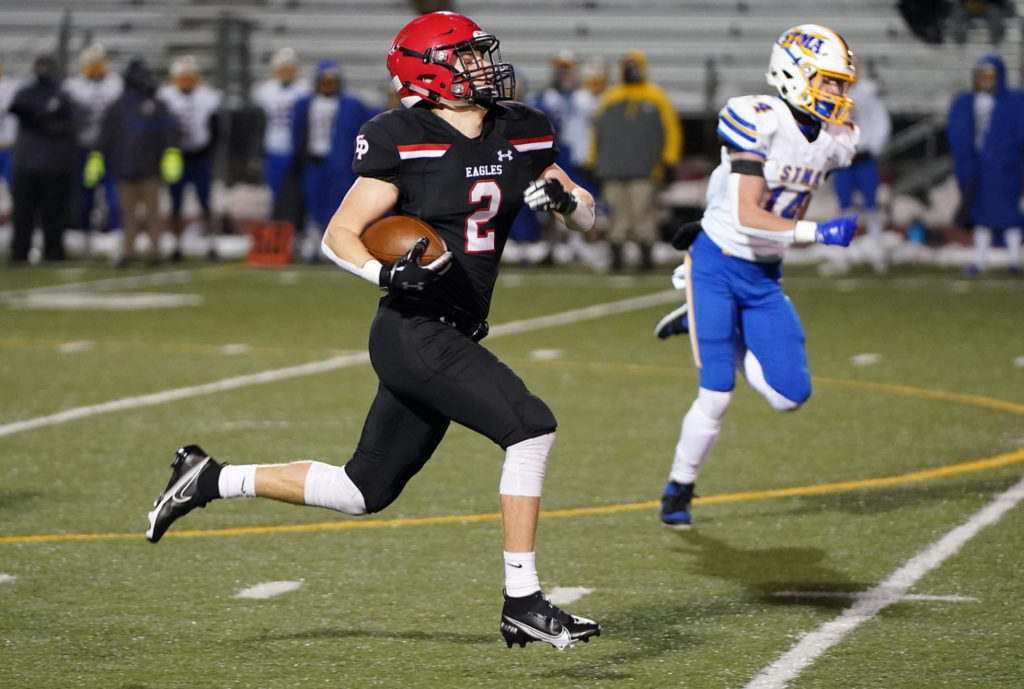 "Two really good teams played a really good game," said Grant.
Eden Prairie's victory capped a 6-0 regular season. Eden Prairie counted wins against Minnetonka, Shakopee, Wayzata, Prior Lake, Edina and Saint Michael-Albertville.
On Tuesday, they'll watch Prior Lake vs. Roseville.
On Saturday, they'll host the winner.
If Eden Prairie wins on Saturday, it will most likely face the winner of No. 2 seeded Farmington vs. No. 3 seeded Totino-Grace in its season finale. A date and time has yet to be determined.
Comments
We offer several ways for our readers to provide feedback. Your comments are welcome on our social media posts (Facebook, X, Instagram, Threads, and LinkedIn). We also encourage Letters to the Editor; submission guidelines can be found on our Contact Us page. If you believe this story has an error or you would like to get in touch with the author, please connect with us.