Having hit the Rule of 90 (when the sum of your age and the years of public service totals at least 90) a few years ago, Eden Prairie High School Activities Director Mike Grant had the option to retire early without a reduction in his pension, but he didn't.
He considered it, but would also say no to retirement at the end of the 2019-20 school year.
"I certainly thought about it," said Grant, "but I also thought what a tough time it is.
"I really believe that for school administrators right now," he added, "there's nothing like it. This is the hardest time in the history of our country to be a principal, to be an administrator at the district level, to be an AD. There's nothing like it because when 9/11 happened, when wars are about, you can rally people together and hug each other and care about each other. Yet here we are in the middle of a crisis, we're saying you have to
stay away from everybody, and as social people, it's hard, it's just that hard."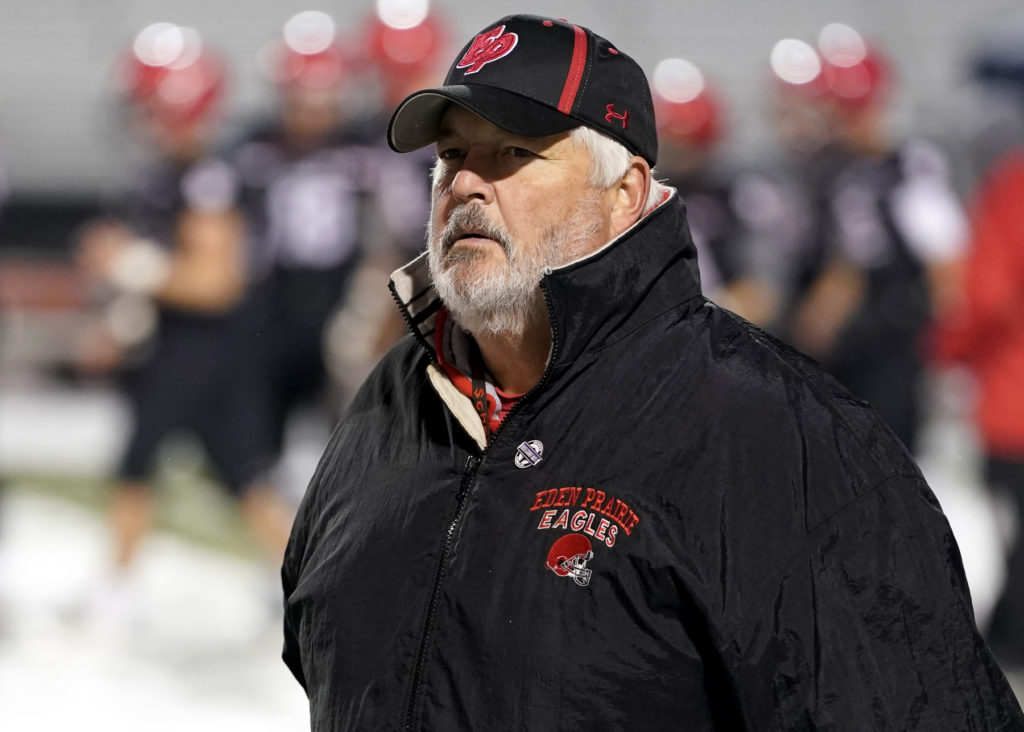 So, Grant started the 2020-21 school year like most everyone else.
"Talking to Robb Virgin, our principal, I said I'll stay on, but let's have a conversation on what the end game looks like," he said.
The two settled on Jan. 1, when he'll step down as activities director but keep his football coaching duties.
"Hopefully, we'll have our winter seasons underway and maybe there can be a natural succession," said Grant.
He laughs about it, but says that on Jan. 1, he'll be at the cabin watching the birds on the bird feeder.
"I'm 63," said Grant. "In 17 years, I'm going to be 80. There are things I'd like do. I want the freedom to do them."
Grant joined the Eden Prairie School District as a social studies teacher and its head football coach in 1992. Since, his teams have won 11 big-school state championships. He became activities director in 2001.
Continue coaching
While Grant will step away from Eden Prairie's activities director position on Jan. 1, he plans to continue as Eden Prairie's head football coach.
"I feel like I still have a lot to give in coaching," said Grant. "I love being around the guys. My best two hours of the day is when I'm out there on the football field with our kids.
"I'm 63," he added, "Honestly, I feel like I'm 25 when I'm out there coaching. It doesn't feel any different than when I started 42 years ago."
While he wouldn't put a number on how long he might remain, he said there are a number of kids in the system that he knows and would like the opportunity to coach.
He's also hoping for continued good health.
"I love Eden Prairie and I love our kids," he said, "and love is an accurate word on how I feel about our football players."Grant's 2020 football team is off to a 2-0 start.
Last Friday, Eden Prairie beat Shakopee in its home opener by a score of 52-0.
Comments
We offer several ways for our readers to provide feedback. Your comments are welcome on our social media posts (Facebook, X, Instagram, Threads, and LinkedIn). We also encourage Letters to the Editor; submission guidelines can be found on our Contact Us page. If you believe this story has an error or you would like to get in touch with the author, please connect with us.